Prisoners escape from India's Madhya Pradesh jail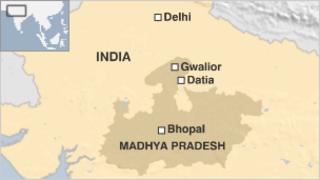 Seven inmates have escaped from a prison in the central Indian state of Madhya Pradesh, police say.
They included six members of the Students Islamic Movement of India (Simi), a banned group.
One of the prisoners was later apprehended near the jail in Khandwa district, police said.
The inmates, who escaped after breaking through a toilet wall, also attacked policemen on duty while escaping. Two policemen were injured.
Madhya Pradesh Home Minister Uma Shanker Gupta told the NDTV news channel that an investigation had been ordered into the incident.
"There is no doubt there has been negligence in security," Mr Gupta said.
In February, authorities foiled an attempt by inmates accused of deadly bombings to tunnel their way out of a jail in the western state of Gujarat.
A 5.4m (18ft) escape route was found in a part of Sabarmati jail that houses prisoners on trial for bombings that killed 57 people in Ahmedabad in 2008.