Indian media: 'Modest outcome' from Pakistan talks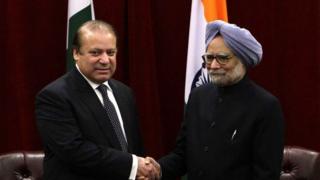 Media are discussing the "modest outcome" of Prime Minister Manmohan Singh's peace talks with his Pakistani counterpart Nawaz Sharif.
The two leaders met for over an hour on the sidelines of the UN General Assembly in New York on Sunday for what Indian newspapers describe as a "positive" but "zero outcome meet".
"The outcome of the meeting, which had been in the works for several weeks, is surely a modest one. But Indian officials said it was also realistic, noting that the increasingly brittle situation on the LoC (Line of Control) had become a source of enormous concern," says The Hindu.
The Line of Control divides the disputed region of Kashmir between India and Pakistan.
The CNN-IBN says "there was no eye contact and restricted smiles when the two prime ministers met, an early indicator of how little could be expected from the meeting. After hours of discussion the key takeaway was that the ceasefire (on the LoC) must be restored".
"Even before the talks began, both sides had clearly laid out their positions. Mr Sharif stuck to his previous stand, and did not come up with anything outside the box, harking back to self-determination in Kashmir with the aid of the United Nations," says the First Post website.
Meanwhile, newspapers are also reporting Mr Sharif's alleged "insulting remark" about Mr Singh.
"A major controversy erupted on Sunday over Pakistan PM Nawaz Sharif purportedly calling PM Manmohan Singh a "dehati aurat" (village woman) during a breakfast meet with two journalists in the US," reports the Hindustan Times.
Mr Sharif's office later denied that the Pakistani PM had made any insulting remarks against Mr Singh.
The denial, however, did not deter Narendra Modi, the main opposition Bharatiya Janata Party's (BJP) prime ministerial candidate, from using the opportunity to criticise Pakistan at a campaign rally in Delhi on Sunday.
Mr Modi said no nation should be allowed to insult India's PM. He also vowed to eradicate corruption if elected to replace Mr Singh in 2014.
Newspapers and experts feel that Mr Modi's speech has set the tone for the BJP's clash with the Congress-led United Progressive Alliance (UPA) in the 2014 general elections.
"His speech unveiled his party's election platform, it is indeed novel and a departure from previous BJP campaigns marked by identity rhetoric. His rally can be deemed successful and promises a real clash with the UPA," says The Times of India.
Hindi newspaper Amar Ujala feels that Mr Modi has struck a chord with the people by talking about corruption and poverty, but adds that one has to wait to find if his speeches will attract votes in the Delhi assembly elections due later this year.
'Cricket boss re-elected '
In sports, newspapers are criticising the re-election of N Srinivasan as the president of the Board of Control for Cricket in India (BCCI).
"There were members who didn't want him to take over BCCI's reins. But nobody dared to raise a voice as the unshaven president-in-exile was home and dry, keeping his promise to the media that he would come back to power," says The Times of India.
However, Mr Srinivasan can start his fresh stint only after the Supreme Court clears him of legal issues that forced him to "step aside" from his post in June.
The court is hearing a petition seeking to bar Mr Srinivasan from holding posts in the BCCI.
Mr Srinivasan had "stepped aside" after his son-in-law and Chennai Super Kings team official Gurunath Meiyappan was arrested over allegations of betting in the Indian Premiere League (IPL) tournament.
Mr Meiyappan denies the allegations and has been released on bail.
BBC Monitoring reports and analyses news from TV, radio, web and print media around the world. For more reports from BBC Monitoring, click here. You can follow BBC Monitoring on Twitter and Facebook.