Telangana: Protests continue over new state in southern India
1 August 2013

From the section

India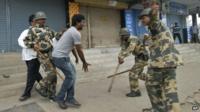 Protests are continuing for the second day in the southern Indian state of Andhra Pradesh after the announcement that it will be split to form a new Telangana state.
Those against the state's bifurcation have taken out rallies and prevented public transport buses from plying.
The state has seen protests for and against the proposal in recent years.
Telangana, with a population of 35 million, comprises 10 of Andhra Pradesh's 23 districts.
The state capital and India's sixth biggest city, Hyderabad, will be included in the new state although for the first 10 years it will serve as the joint capital of the two states.
Backers of the new state say the area has been neglected by the government.
Opponents of the move are unhappy that Hyderabad, home to many major information technology and pharmaceutical companies, will become a shared state capital.
Opposing the split
On Thursday, protests were reported in the districts of Krishna, East Godavari, Visakhapatnam, Kadapa and Anantapur.
A group of students have been sitting on a protest fast in Visakhaptnam for the past three days and lawyers have refused to attend courts as part of their 72-hour boycott in several districts.
The protests have been called by the United Andhra Joint Action Committee which opposes the division of the state. Some local Congress party members have also opposed the split.
Reports say in many districts, schools and colleges and shops have remained shut.
Hundreds of paramilitary troops have been deployed after Tuesday's announcement.
The final decision on a new state lies with the Indian parliament. The state assembly must also pass a resolution approving the creation of what will be India's 29th state.
Correspondents say the timing of the announcement is linked to general elections due early next year. Recent opinion polls have shown that the Congress party is struggling in the state, which has 42 parliamentary seats.
Demand for other states
Meanwhile, the move to create Telangana has sparked off similar demands in the states of West Bengal and Assam, Subir Bhaumik reports from Calcutta.
The main Gorkha ethnic group in West Bengal state has called an indefinite strike in the tea producing Darjeeling region from Saturday.
The Gorkha Janamukti Morcha (GJM), which is leading the campaign for a separate state for Nepali-speaking Gorkhas, had organised a three-day strike from Monday to Wednesday on the issue.
"We have asked all students in Darjeeling boarding schools and the tourists who come here at this time of the year to leave. That is why we have given a breather on Thursday and Friday," GJM general secretary Roshan Giri said.
And in the state of Assam, students in the hill districts of Karbi Anglong - who are demanding a separate state for Karbi tribals - clashed on Wednesday with the police, which opened fire in the town of Diphu, killing one protester and injuring at least 20 others.
The district administration had to seek army assistance to control the situation.