Indian media: Nobel laureate Amartya Sen offers to return award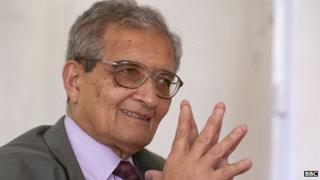 Media in India are discussing Nobel laureate Amartya Sen's offer to return the Bharat Ratna, India's highest civilian honour, after he was criticised for his remarks about controversial politician Narendra Modi.
A noted economist, Mr Sen has said he does not want to see Mr Modi, the chief minister of the western state of Gujarat, as prime minister, according to newspaper reports.
Mr Modi is a senior leader of the main opposition Bharatiya Janata Party (BJP) and the party's campaign chief for the general election, due next year.
Reacting to demands by BJP MP Chandan Mitra to return the Bharat Ratna, the Nobel laureate has offered to return the award, reports the Hindustan Times.
"Mr Chandan Mitra may not know that the Bharat Ratna was given to me by the BJP-led government and was handed to me by [former PM] Atal Behari Vajpayee. If Mr Vajpayee wants me to return it, I will certainly return it," the paper quotes Mr Sen as saying.
Mr Modi often divides political opinion in India. Many feel he did little to stop the anti-Muslim riots in his state in 2002, which left over 1,000 people dead. Mr Modi has always denied any wrongdoing.
The BJP has sought to distance itself from Mr Mitra's comment, saying the remarks were made by him in his personal capacity. But the ruling Congress party says Mr Mitra's comments show the BJP's "fascist mentality", reports The Indian Express.
And in some controversial remarks, a leader of the ruling Congress party has said it is possible to have a full meal in Delhi for only five rupees (8 cents, 5 pence).
Congress leader Rasheed Masood's statement that "one can eat well" for five rupees in Jama Masjid area of Delhi has outraged many, reports The Pioneer.
The Times of India says it tried to offer five rupees to a beggar in Jama Masjid area but she refused to take it, saying she "will not get anything for this".
The remarks come amid criticism of a new government report which shows a steep decline in the country's poverty levels in recent years.
Al-Qaeda poem removed
Meanwhile, Calicut University in the southern state of Kerala has decided to remove a poem written by an Al-Qaeda leader from its syllabus after protests, reports the Hindustan Times.
Ode to the Sea, written by Ibrahim al-Rubaish, was part of the Literature and Contemporary Issue Studies course at the university.
Critics are unhappy with the decision, saying it is an attack on creativity.
"It is a sad day. How can you kill creativity like this? I read the poem more than once. No objectionable line is there," the paper quotes poet K Satchidhanandan as saying.
Finally, in bad news for the environment, a new study says traffic is responsible for nearly half of the carbon dioxide levels in Delhi and gas emissions will rise by a massive 526% by 2030 if no remedial action is taken, reports The Times of India.
Discussing the study, carried out by one of India's premier technology institutions IIT Delhi, experts say the problem is due to the large number of flyovers and signal-free roads in the city, which add more vehicles on the roads.
Prominent non-government organisation Centre for Science and Environment says "badly designed cities promote wrong travel choices, in the form of personal vehicles, which is highly detrimental to the environment", the paper says.
BBC Monitoring reports and analyses news from TV, radio, web and print media around the world. For more reports from BBC Monitoring, click here. You can follow BBC Monitoring on Twitter and Facebook.