Indian media: Advani's resignation divides BJP
11 June 2013

From the section

India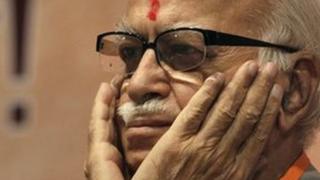 Media in India are focussing on the ongoing political crisis in the main opposition party after one of its founding members resigned from key posts on Monday.
The Bharatiya Janata Party's (BJP) most senior leader, LK Advani was upset with the appointment of controversial politician Narendra Modi as the head of its election campaign committee over the weekend, reports said.
Newspapers feel the infighting in the BJP will hurt the party's chances of returning to power despite widespread anger against the ruling Congress over corruption scandals.
The Times of India says Mr Advani "has put up a speed bump before a party that appeared to be regrouping around Mr Modi" for the general election due in May 2014.
The Hindu argued that Mr Advani did not "deserve being humiliated in the manner he has been".
"Mr Modi has so far been a deeply divisive figure and the Advani episode has revived all the doubts about his ability to lead an India distinguished by its diversity," the paper adds.
The Indian Express, however, says Mr Advani must explain "why he feels Mr Modi's ascension in the party so alienates him. By not doing so, he would be doing a disservice not just to his party, but also to his own long and arduous career".
The Hindustan Times feels Mr Advani's "departure could have far-reaching ramifications for the party... the signal to the rank and file of the party is that Mr Modi is just not acceptable to everyone".
Meanwhile, the Board of Control for Cricket in India (BCCI) has issued new guidelines in a bid to curb corruption in the Indian Premier League (IPL) tournament.
The board's cash-rich cricket league suffered a "credibility crisis" last month after police arrested three players, a team owner and bookmakers over allegations of spot-fixing.
According to the new guidelines, owners will not be allowed in players' dugouts, no cheerleaders will be seen during matches and no post-match parties will be organised, the Zee News reports.
Staying with cricket, a court in Delhi has granted bail to Test cricketer S Sreesanth and his IPL teammate Ankeet Chavan.
The cricketers were arrested over allegations of spot-fixing in the IPL, the NDTV website reports.
Obama's picture
Meanwhile, a government job applicant was left stunned in the north-western state of Rajasthan after he discovered a picture of the US President Barack Obama on his examination card.
Lalu Ram Meena, 40, was taken aback when he opened the letter asking him to appear for an exam to recruit junior engineers, the Mail Today reports.
"Would President Obama be interested in a job of junior engineer in India? At least the Staff Selection Committee would like to think so," says the India Today website.
Moving on to stories of human grit, reports say a tribal man walked 40km (25 miles) carrying his pregnant wife on his back to a hospital in the southern Indian state of Kerala.
Ayyappan and his wife, Sudha, left their home in Konni forest on Friday morning to reach the hospital in Pathanamthitta district. The couple, however, lost their child, The Indian Express reports.
And in Rajasthan, a 19-year-old woman stood her ground against pressure from her fiance's family and the local village council to get married, insisting she wanted to complete her education first.
Police are now investigating after Chaini, from a remote village in Barmer district, filed a complaint against five members of the village council who allegedly issued a decree to ostracise her family, the paper reports.
BBC Monitoring reports and analyses news from TV, radio, web and print media around the world. For more reports from BBC Monitoring, click here. You can follow BBC Monitoring on Twitter and Facebook.