Raj Kundra: India cricket board suspends IPL team owner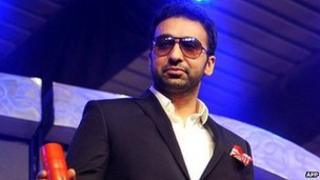 India's cricket board has suspended Rajasthan Royals team owner Raj Kundra from participation in cricketing activities over allegations of betting in the Indian Premier League (IPL).
Mr Kundra's passport was seized last week and he was ordered not to leave India. He has denied any wrongdoing.
A British citizen, he is married to Bollywood star Shilpa Shetty.
In May, three players from his team - S Sreesanth, Ajit Chandila and Ankeet Chavan - were arrested.
They were accused of spot-fixing which involves rigging parts of a match to benefit those betting on matches.
Sreesanth has denied the charges and has proclaimed his innocence. The families of Chandila and Chavan have also said they are innocent.
The players remain in custody and have been suspended by India's cricket board and their IPL team. The arrests have shocked many Indians.
Former cricket board chief N Srinivasan also stepped aside after his son-in-law Gurunath Meiyappan was arrested over allegations of betting in the IPL. Mr Meiyappan has since been released on bail.
The Board of Control for Cricket in India (BCCI) held an "emergency meeting" in Delhi on Monday to discuss alleged corruption in the IPL.
"Mr Raj Kundra has been suspended pending enquiry from participation in cricket activities under the aegis of BCCI," the board later said in a one-line statement.
After questioning Mr Kundra last week, the police said he had admitted to betting, which is illegal in India.
Mr Kundra later said in a statement that he would "unhesitatingly forfeit" his share in the Rajasthan Royals team if "an iota of wrongdoing is finally established against me".
Monday's BCCI meeting also discussed the allegations of spot-fixing against the three Rajasthan Royals cricketers.
"Mr Ravi Savani, who was appointed to enquire into the alleged match-fixing and spot-fixing allegations against some players, has submitted his interim report to the disciplinary committee of the board," the BCCI said.
The IPL is considered to be the world's showcase for Twenty20 cricket. Top Indian and international players take part, contributing to what is the world's richest cricket tournament.