Raj Kundra: India IPL team owner's passport seized
6 June 2013

From the section

India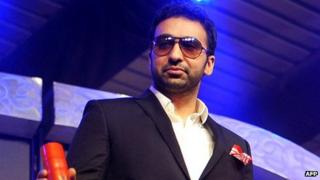 Police investigating allegations of spot-fixing in the Indian Premier League cricket tournament say they have seized the passport of a team owner.
Raj Kundra, a British citizen, owns the Rajasthan Royals team. He is married to Bollywood star Shilpa Shetty.
He was questioned for several hours by Indian police on Wednesday and has been ordered not to leave India.
Later on Thursday, Mr Kundra protested his innocence on Twitter. "Will make formal statement soon," he tweeted.
"[But] rest assured I am not involved in any wrongdoings. Do not misconstrue silence 4 guilt. Truth will prevail."
Last month, three players from his team - S Sreesanth, Ajit Chandila and Ankeet Chavan - were arrested.
The players were accused of spot-fixing which involves illegally rigging parts of a match, for example by timing the delivery of a deliberate wide or no-ball, to benefit bookmakers or those betting on matches.
Sreesanth has denied the charges and has proclaimed his innocence. The families of Chandila and Chavan have also said they are innocent.
The players remain in custody and have been suspended by India's cricket board and their IPL team. The arrests have shocked many Indians.
On Thursday, Delhi police chief Neeraj Kumar said Mr Kundra had admitted to betting, which is illegal in India.
"He has... said that he placed bets on his own team through bookies. He also said that he lost huge sums of money in the process," Mr Kumar told a news conference.
Mr Kundra's office told the BBC that they would soon issue a formal statement.
Shilpa Shetty, however, has taken to Twitter to criticise the media "for blowing the issue out of proportion". The actor tweeted that she has never bet on a cricket match and that she and her husband were involved in the IPL "because of their love for the game".
The IPL is considered to be the world's showcase for Twenty20 cricket. Top Indian and international players take part, contributing to what is the world's richest cricket tournament.