Bollywood actress Jiah Khan buried in Mumbai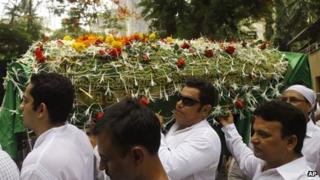 The funeral of Bollywood actress Jiah Khan, who killed herself at her home on Monday night, has taken place in the Indian city of Mumbai.
The body of the 25-year-old actress was buried in the Santa Cruz graveyard.
The actress made her debut in 2007 with Amitabh Bachchan in Nishabd. She also acted with Aamir Khan and Akshay Kumar.
Khan, who was found hanging by her mother, did not leave a note, but police said a post-mortem had confirmed suicide.
On Wednesday, Khan's body was taken in a funeral procession from her home to the graveyard.
Earlier, Bollywood star Aamir Khan, Khan's co-star in her second film Ghajini, and actor Riteish Deshmukh, who worked with her in Housefull, visited her home to pay their respects.
Meanwhile, police have been talking to Jiah Khan's family and her friend Sooraj Pancholi, son of actor couple Aditya Pancholi and Zarina Wahab, reports say.
Born Nafisa Khan in New York, the actress grew up in London before moving to Mumbai for a career in Bollywood.
She debuted in Nishabd with Bachchan and did the psychological thriller, Ghajini, with Aamir Khan.
Her last film role was in the 2010 comedy Housefull, in which she played a supporting role.
Khan's "official" website says she studied Shakespeare and method acting in New York from the age of 17.
She later featured in an advert for the animal rights group, People for the Ethical Treatment of Animals (Peta).