Indian media: Manmohan Singh's Japan visit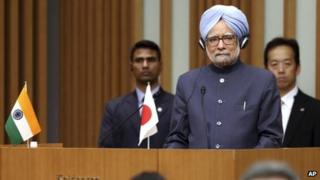 Indian media are discussing Prime Minister Manmohan Singh's Japan visit and his special envoy's meeting with Pakistan's PM-designate Nawaz Sharif.
The Zee News says Mr Singh will look to "invigorate bilateral strategic ties and push for a civil nuclear energy cooperation deal" with Japan during his three-day visit, which started on Monday.
"We will explore ways to harness the full potential of our comprehensive economic cooperation partnership by intensifying and balancing our two-way trade and investment linkages," The Times of India quotes Mr Singh as saying.
The paper, in another report, says: "China's possible annoyance at India's cosiness with Japan would not get in the way of Delhi engaging Japan in a big way."
The Tribune says that Japan will strongly pitch for exporting its high-speed rail technology to India.
"Covering a distance of 1,400 km (870 miles) between Delhi and Mumbai in eight hours by train could well become a reality if India were to adopt Japan's high-speed rail technology," the paper adds.
The Hindu reports that India has invited Japan to hold military exercises in the Indian Ocean in a bid to strengthen defence cooperation.
Staying with foreign affairs, newspapers, including The Indian Express, the Hindustan Times and The Times of India, are reporting that Mr Singh on Monday sent a special envoy to hold talks with Nawaz Sharif in an attempt "to boost ties between the two countries".
The PM's envoy, Satinder Lambah, travelled to Pakistan to greet Mr Sharif on his victory in the general elections and "discussed ways to take the dialogue process forward", reports the Hindustan Times.
'No home food'
Newspapers are also reporting that Bollywood actor Sanjay Dutt may not get home-cooked food in Pune's Yerwada Jail.
The actor, who has already served 18 months in jail, returned to prison on 16 May to finish the remainder of his five-year sentence for firearms offences linked to the 1993 Mumbai blasts.
A court in Mumbai allowed Dutt to get home-cooked food in jail and also take a mattress, pillow, fan, toiletries and mosquito repellent with him
But Yerwada jail authorities have now appealed in court saying that "home-cooked food cannot be allowed for Dutt as it is against the jail manual", the Hindustan Times reports.
Meanwhile, entertainment channel Comedy Central, which was ordered to stop broadcasts last Saturday for 10 days for allegedly "airing obscene dialogues and vulgar words besides being derogatory to women" has appealed the decision in the Delhi High Court, reports the Hindustan Times.
And finally, on a positive note The Times of India reports that a blind boy has scored 95% in the Central Board of Secondary Education (CBSE) examinations. The CBSE exams are modelled on the UK's GCSE.
"The CBSE was not convinced that Kartik Sawhney, who is completely blind, would be able to handle the graphs, diagrams, models required for science. The doubters got their answer on Monday. Kartik scored a 95% aggregate in science," the paper said.
BBC Monitoring reports and analyses news from TV, radio, web and print media around the world. For more reports from BBC Monitoring, click here. You can follow BBC Monitoring on Twitter and Facebook.