IPL: Why is there anger over the cricket tournament?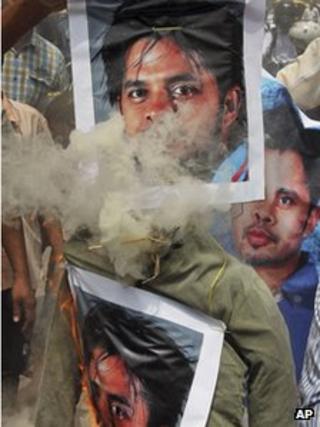 There has been an upsurge of anger over the weekend at the way the world's richest cricket tournament is being run.
Last week's arrest of three cricketers over spot-fixing charges, including India international S Sreesanth, plunged the Indian Premier League - a cocktail of speed cricket and flashy entertainment - into its worst crisis ever.
To add to its woes, Gurunath Meiyappan, a top official of a star-studded team, Chennai Super Kings, who is also the son-in-law of N Srinivasan, chief of The Board Of Control For Cricket In India (BCCI), has been arrested over similar charges.
As the sixth edition of IPL wound up on Sunday with a rather lame final, critics were flaying the tournament, some even calling for banning it.
Many believe that a lot of things are right with IPL.
The cricket, despite sneering sceptics, has often been riveting: power batting, spectacular fielding, and some very wily bowling, especially by spinners, in a format which many say overwhelmingly favours batsmen. The fans have come in droves and filled the stadia.
'Sexist league'
But much else is wrong, and seriously so.
There are serious allegations of conflicts of interest: Mr Srinivasan runs India's cricket board and owns an IPL team (Chennai Super Kings). The former chairman of the selection committee of the national team, K Srikkanth, was also employed as a brand ambassador of Mr Srinivasan's team.
The league's founder Lalit Modi was suspended by BCCI in 2010 after allegations of "individual misdemeanours" relating to bidding processes and media rights, a charge Mr Modi denies. He currently lives in London and refuses to return home, fearing for his life and "prejudiced" courts.
Team contracts have been terminated for alleged violation of agreements. Two teams - Kochi Tuskers and Deccan Chargers - no longer exist. Authorities have fined BCCI for "anti-competitive practices" relating to granting of franchises, sponsorship and media rights. There have been allegations against teams for violating foreign exchange rules (one team was fined last year) and opaque ownership disclosures.
Then there's the politics.
It's still not exactly clear why Pakistani players have been kept away. Sri Lankan players were not allowed to play in Chennai this season amid anger over Colombo's rights record.
If this was not enough, even the league's attitudes towards women has been now questioned.
India's top cricket writer Sharda Ugra has called the tournament "India's premier sexist league", in the way it parades and presents its cheerleaders, studio dancers and on-field women reporters in a "country currently introspecting about why it treats women badly".
Writer and columnist Aakar Patel calls the IPL a "sad, sorry mess" drowning in corruption and cronyism. It's an old grouse, really.
Top editor and cricket fan Shekhar Gupta called it "the giant fix" in an acerbic article, and said the tournament needed to be taken to the "cleaner for a thorough scrub down".
"Some controversy hits the IPL every year," he wrote. "But this controversy is by far the most crippling. Because it has put the credibility of the league in doubt."
India's most well-known cricket commentator Harsha Bhogle said the spot-fixing scandal made him feel "sadness and fear" in an "atmosphere, even if created by a few, tinged with moral decay and danger".
He added: "One thing we must accept, though. The events upon us now are not only about cricket and cricketers, they are about insecurity, temptation, and a desire to keep up with the Joneses."
So what next?
On Sunday, an embattled Mr Srinivasan promised a "fair investigation" into the spot-fixing scandal and any role his son-in-law may have played in it. But two of the three members of the probe panel are people with close links to the cricket officialdom, and questions are being raised about whether it can be a fair probe.
Last week, a senior government minister hastily suggested a new law to tackle corruption in sports, but many say India has enough laws to deal with this scourge already.
"Let's abolish cricket, or at least, let's abolish the IPL," academic-analyst Kanti Bajpai, suggests in another irate piece. "If that seems too radical, we should at a minimum, shut it down for a couple of years so everybody can cool off a bit and the bookies can go look for something else to spoil."
Banning the game - or the IPL - may sound like too harsh a solution.
Much of professional sports all over the world is bedevilled by corruption. What India needs is strong, independent regulation to check runaway corruption in sports and much of everything else.
And if the rot has run deep - as it appears - the changes, many say, need to begin at the top, with the BCCI. It needs to be completely democratic and transparent, and glaring conflicts of interests need to be weeded out. That would be a good beginning.