'Maoist rebels' kill 17 in India
25 May 2013

From the section

Asia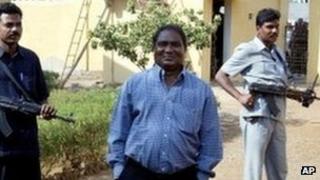 At least 17 people, including a local leader of India's governing Congress party, have been killed in an attack by suspected Maoist rebels in the central state of Chhattisgarh.
A number of party members and supporters were injured in the attack south of Raipur, the state capital.
Reports say the attackers triggered a land mine blast before opening fire at a convoy.
The Maoists are active in more than a third of India's 600 districts.
They say they are fighting for the rights of the poor.
'Devastated'
Officials say the convoy was ambushed in the Sukma area, about 345km (215 miles) south of Raipur.
The attackers reportedly blocked the road by felling trees. They then detonated the mine and started spraying the convoy with bullets.
The Congress party leader killed in the attack was named as Mahendra Karma. A former home minister in Chhattisgarh, he was instrumental in setting up a vigilante group to fight the Maoists.
The current party leader in the state, Nandkumar Patel, and his son are believed to have been abducted in the attack which happened as the Congress politicians were returning from a campaign rally.
The Congress party is the main opposition party in the BJP-run state.
Congress President Sonia Gandhi condemned the ambush, saying it was an attack on India's democratic system.
"We are devastated," she added, after attending an emergency meeting with Prime Minister Manmohan Singh.
Mr Singh last month described the Maoist rebels as the biggest internal security challenge facing India.