Indian media: Ties with Beijing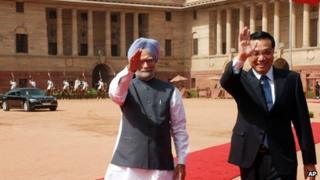 Media in India continue to focus on Chinese Premier Li Keqiang's talks with Prime Minister Manmohan Singh but also consider the impact of spot-fixing allegations on the Indian Premier League (IPL) tournament.
Leading newspapers strike a tone of cautious optimism over Mr Li's attempt at solving border disputes and reducing the trade deficit.
The Hindu, in an editorial, says that negotiations over border disputes "will hopefully breathe political life into a process that is at a virtual standstill despite 15 rounds of talks".
The Hindustan Times points out that the Chinese premier "seems to have walked his talk of greater harmony between the two countries".
The Indian Express said the talks "could be the first step towards a new equilibrium in Sino-Indian relations".
"A candid discussion of the new challenges is only the first step forward in a long and arduous journey that Delhi and Beijing have now begun," the paper's editorial adds.
On a lighter note, newspapers also praised Mr Li's "jovial nature" and his "pragmatic approach".
"While Mr Li came across as loquacious and jovial in his interaction with Indian leaders - a far cry from several other Chinese leaders who have visited here in the past - he also won hearts with his knowledge of India," a Times of India report said.
He amused journalists by asking if they were going to give him front-page coverage in their newspapers.
"Much to the amusement of Indian journalists, he also promised to ensure 'banner headlines' for Mr Singh when the Indian PM visited China later this year," The Times of India added.
Meanwhile, as the diplomatic parleys continued, parts of central Delhi witnessed huge traffic jams as police closed several roads for security reasons.
"Vehicular movement was disrupted in the capital.. due to restrictions enforced in view of Premier Li's visit to the capital," The Indian Express reported.
Focus on cricket
Even though the spotlight has been on spot-fixing allegations for the past week, the focus is now returning to the ongoing Indian Premier League (IPL) as the tournament enters its final week.
Table-toppers Chennai Super Kings take on second-placed Mumbai Indians for a spot in the finals of the tournament on Tuesday evening and the "big match" is generating interest in the media.
"After 72 league matches - mismatches, in some cases - we're into the final week of the IPL. The most important week," popular cricket website cricinfo.com reports.
And finally, The Times of India reports that an American teenager of Indian origin has invented a device which can fully charge a mobile phone in 20 to 30 seconds.
"Esha Khare, 18, of Saratoga, California has received the Intel Foundation Young Scientist Award for developing a fast-charging super-capacitor that fits inside a cell phone, charges the battery in under a minute, and holds it for long," the paper adds.
BBC Monitoring reports and analyses news from TV, radio, web and print media around the world. For more reports from BBC Monitoring, click here. You can follow BBC Monitoring on Twitter and Facebook.