Indian media: Return to Olympics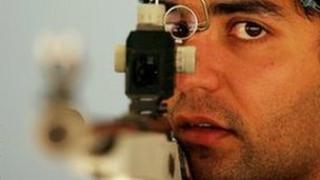 Indian media are optimistic over the country's chances of returning to the Olympic fold following a "constructive" meeting between officials of the International Olympic Committee (IOC) and the Indian Olympic Association (IOA) in Lausanne, Switzerland.
The IOC suspended the IOA in December 2012 for holding elections in defiance of the Olympic charter and appointing officials facing corruption charges related to the 2010 Commonwealth Games.
The Indian Express says India has taken "an important step" towards returning to the Olympic fold, while The Times of India says "India pledges radical reforms to re-enter Olympics".
"There seems to be a light at the end of the tunnel for the Indian Olympic Association," says the Hindustan Times.
India's Olympic gold medal-winning shooter Abhinav Bindra, who was part of the Indian delegation to Lausanne, has also appealed the IOC to overturn the ban.
"There's a huge deficit of trust between administrators and athletes in India. That's why I came here and I wanted to let IOC know and wanted IOC to assist us in bringing reforms into how sports is governed [in India]," the Times of India quoted him as saying.
Staying with sport, leading news channels and websites, including India Today, are reporting the arrest of three cricketers over spot-fixing allegations in the cash-rich Indian Premier League (IPL).
The IPL also came under fire from sports columnist Sharda Ugra, who accused broadcasters of using young women as "eye candy", in a report in The Hindu.
More often than not, female commentators "are chosen very deliberately not for their cricket nous but their youthful appearance", she argues.
"At a time when India is in a roil about its treatment of women, the IPL, a powerful pan-Indian pop culture platform, has demonstrated where it stands in the debate - somewhere between 'can't say' and 'don't care'," she adds.
Women-safety fund
On the issue of women's rights, The Times of India reports that a fund set up by the federal government to ensure women's safety after the horrific gang rape and killing of a 23-year-old woman in Delhi last year is now "caught in bureaucratic red tape".
The paper says "there is no clarity" on which ministry should look after the fund.
India has been much in the news recently over corruption scandals and Defence Minister AK Antony has admitted that corruption allegations have harmed the government's image.
"Corruption is a menace. Despite our serious efforts, the general perception is that the government is not serious about eradicating corruption," Indian Express quotes Mr Antony as saying.
However, Prime Minister Manmohan Singh says he does not have any "cash in hand" and owns a far from glamorous 1996-model Maruti car, unlike many of his colleagues, reports the NDTV website.
In an affidavit filed to election officials in Assam while submitting his nomination papers for forthcoming elections to the Rajya Sabha, upper house of parliament, the PM said that his car was valued at just 21,033 rupees ($384; £152).
Circus returns to Kashmir
Moving on to some good news, people in Indian-administered Kashmir may soon have something to smile about after the government promised to provide security and permits for a circus in the troubled region after a gap of 30 years.
"A Ludhiana-based circus troupe, New Apollo Circus, is all set to tour Kashmir for nearly three months beginning end-May," reports the Hindustan Times.
"Till the mid-1980s, before armed insurgency began, circuses were common in Kashmir," the paper quotes New Apollo Circus director Bipan Jindal as saying.
College student Naheed Burza from Srinagar tells the paper that an "entire generation of Kashmiris" had never seen a circus.
"This is great news for us," he adds.
BBC Monitoring reports and analyses news from TV, radio, web and print media around the world. For more reports from BBC Monitoring, click here. You can follow BBC Monitoring on Twitter and Facebook.