Maya Kodnani: Gujarat 'rethinks' appeal for death penalty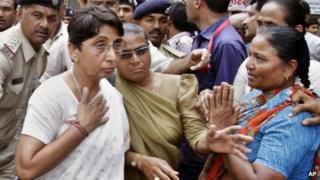 India's Gujarat state has put on hold its decision to seek the death penalty for ex-minister Maya Kodnani, who was convicted over the 2002 Gujarat religious riots, media reports say.
She was given 28 years in jail last year for her part in the killing of 97 people in Naroda Patiya.
Last month, the state's legal department said it would seek the death penalty for Kodnani and others.
The riots left more than 1,000 people, mostly Muslims, dead.
The rioting began after 60 Hindu pilgrims died in a train fire blamed on Muslims in the town of Godhra. The violence was among India's worst outbreaks of unrest.
It is not known why the Gujarat state legal department has decided to withhold its decision to appeal, but correspondents say the state's Bharatiya Janata Party-led government had been severely criticised by its Hindu allies for seeking the death penalty.
An aide to Chief Minister Narendra Modi, Kodnani was not a minister at the time of the riots but was appointed junior minister for women and child development by Mr Modi in 2007.
She quit her post when she was arrested in 2009 in connection with the massacre but remained a member of the state assembly.
She was convicted of murder, attempted murder and conspiracy with the judge naming her as "a kingpin of riots" in the Naroda Patiya area. So far, she is the most senior figure convicted over the riots.
Following her conviction in August last year, Mr Modi's government distanced itself from her saying that she had not been a state minister at the time.
Babu Bajrangi, a former leader of the hardline Hindu group Bajrang Dal, was found guilty on the same charges as Ms Kodnani and was sentenced to remain in jail until he died.
Mr Modi, touted by some as a future prime minister, has been accused of not doing anything to stop the riots - a charge he has always denied.
Ninety-five bodies were found after the Naroda Patiya massacre - the worst of the Gujarat riots cases - on 28 February 2002. The bodies of two other people missing after the massacre and presumed dead were never found.
The trial began in August 2009 and charges were brought against 62 people. One of the accused died during the trial.