Sachin Tendulkar unveils gold coin engraved with his face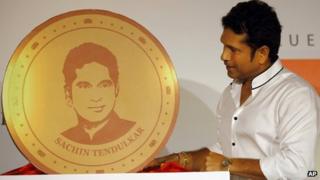 Limited edition gold coins with Indian cricket star Sachin Tendulkar's face engraved on them have been launched by an Indian jewellery company.
The 24-carat, 10-gram coin was unveiled in the city of Mumbai by the cricketer.
The company said it would mint 100,000 coins which would be sold for 34,000 rupees ($621; £406) each.
Tendulkar, who turned 40 last month, has a huge fan base in India. He was the first cricketer to score 100 international centuries.
He also holds the record for more Test runs than any other player (15,837) and more One-Day International (ODI) runs than anyone else (18,426).
"I have had many golden moments on the field. There are some wonderful memories but this is something really different," Tendulkar said at the launch on Monday, the Hindu holy day of Akshaya Tritiya, which is considered to be an auspicious day to buy gold.
"I like to buy gold. It was a thing to have nice gold chain around the neck and I did that as a teenager," he added.