Indian media: Sharif's 'invitation'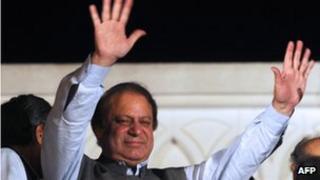 Media in India are praising Nawaz Sharif for his warm words and apparent invitation to Prime Minister Manmohan Singh to his swearing-in ceremony.
Mr Sharif is set to become Pakistan's next prime minister and many in India see this as a good omen for bilateral ties.
The Hindu highlights that Mr Sharif "had vowed to revive the peace process which was interrupted by the then military ruler Pervez Musharraf".
The Indian Express in its front-page story says Nawaz Sharif "has reached out to India", while The Tribune lead headline says: "Sharif for warmer ties with India".
The Telegraph calls the Pakistan Muslim League (PML-N) chief's invitation a "diplomatic nicety" but says the visit seems unlikely as the invitation is not a formal one.
"The officials in Delhi discounted the possibility of the Prime Minister making a trip for the oath-taking. One official said 'Singh may want to go', but the ground reality may not be conducive 'now' — an oblique reference to the death of Sarabjit Singh and the beheading of an Indian soldier," the paper says.
Kashmir Times, a leading daily in Indian-administered Kashmir, sees "great scope for Indo-Pak harmony" after the change of guard in Pakistan.
"Sharif has generously reciprocated Dr Manmohan's Singh's congratulatory message and indicated his willingness to go that extra mile in improving and expanding Indo-Pak relationship," the paper's editorial says.
The Times of India also carries the story on its front page but gives more prominence to a statement by India's main opposition party, the Bharatiya Janata Party's (BJP), suggesting that the Indian PM invited Mr Sharif in haste - referring to the Indian prime minister's invitation to Mr Sharif to visit India.
'Perfect relationship'
In domestic news, leading newspapers are focusing on a reports of a rift between ruling Congress party chief Sonia Gandhi and Manmohan Singh.
This follows earlier media reports suggesting that Ms Gandhi had forced Mr Singh to sack two cabinet ministers over corruption charges.
But papers are now carrying the Congress Party's clarification that there was no rift.
"In an unusual reiteration, Congress for the second day running dismissed as 'rumours' reports of differences between party chief Sonia Gandhi and Prime Minister Manmohan Singh, insisting that they enjoy a 'perfect' relationship," a report in The Times of India says.
Turning to South India, newspapers are covering the swearing-in ceremony of new Karnataka Chief Minister Siddaramaiah and his "bonanza for the poor".
"Siddaramaiah began his innings as chief minister on Monday by announcing a number of populist schemes, including providing rice at 1 rupee per kg to poor families," Bangalore-based daily Deccan Herald reports.
Meanwhile, Indian drug maker Ranbaxy Laboratories Ltd will pay $500m (£323m) in civil and criminal fines under the settlement agreement with the US department of justice, financial daily Mint reports.
"Ranbaxy USA pleaded guilty to three felony counts related to the manufacture of drugs at two Indian locations that did not meet safety standards and to four counts of making material false statements," the paper adds.
Delhi doubts
Indian Express reports that the Lieutenant Governor of Delhi, Tejendra Khanna, has asked Chief Minister Sheila Dixit's office to "reconsider" Delhi as the host city for the 20th Asian Athletics Championships scheduled to be held in the first week of July.
The paper says Mr Khanna is worried about the event coinciding with monsoon rains which could lead to what he terms as "civic issues" and hamper the country's image. He fears this may bring back memories of problems related to the Commonwealth Games.
Moving to Bollywood, the same paper reports that leading actress Aishwarya Rai Bachchan will be walking the red carpet at this year's Cannes Film Festival once again.
And in cricket, NDTV reports that a leading retail chain has launched limited-edition gold coins with Sachin Tendulkar's image embossed on it.
"I have always enjoyed the time spent on the cricket field which has given me some of the most precious memories of my life. However, this occasion is a different golden moment of my life," Tendulkar said at the launch.
BBC Monitoring reports and analyses news from TV, radio, web and print media around the world. For more reports from BBC Monitoring, click here. You can follow BBC Monitoring on Twitter and Facebook.