Why is India's PM Manmohan Singh under attack?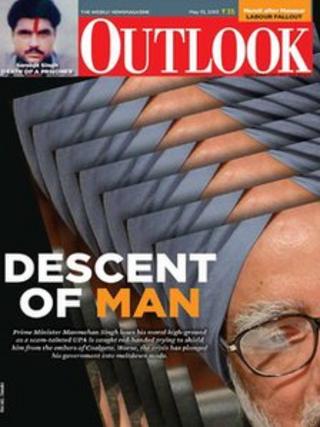 Is India's Congress government headed towards a meltdown? And has PM Manmohan Singh, the soft-spoken technocrat with a clean image, lost the "moral high ground", as a critic says?
For a government which has lurched from one crisis to another, developments over the weekend evoked a sense of deja vu.
Two senior ministers, reportedly handpicked by the prime minister himself, resigned over links with corruption claims, plunging the party into another crisis.
Pawan Bansal quit as the railway minister after police arrested his nephew for bribery, and Ashwani Kumar stepped down as the law minister amid claims he influenced a report investigating a coal scandal. Both deny wrongdoing.
Mr Singh's government is already hobbled by corruption scandals involving his cabinet ministers ranging from allocation of resources (mobile phone spectrum licenses and coal) to plain old-fashioned bribery allegations (money for transfer of officials to "lucrative" postings). Critics are already calling Mr Singh's government the most corrupt one in India's history.
But corruption charges are only part of the problem.
'Timid'
Jobs have shrunk, the economy is crawling, inflation and interest rates remain high, the current account deficit is threatening, manufacturing has hit the buffers and skittish bureaucrats privately complain of "policy paralysis". To make matters worse, India's politics looks broken: bipartisanship has collapsed, and nothing much gets done these days in the parliament.
And now, much of the blame is being laid at Mr Singh's door.
Never have the headlines been harsher: the media is no more enamoured of Mr Singh.
India Today magazine calls him Dr Dolittle. Descent Of A Man is the Outlook magazine cover, which says that Mr Singh is piloting a "sinking ship". No, Prime Minister, says the feisty Tehelka magazine in a long and unusually strong critique of Mr Singh. Once Was King, says Business Standard.
Analysts say Mr Singh's image has taken a battering for a variety of reasons.
Some, like historian Ramachandra Guha, say he's "timid and status quoist" and should have put in his papers in 2009 after he led the government to a second term in office.
Others say he did not "show enough spine" when the corruption scandals began to emerge. ("He should have gone to the party and said, I refuse to carry the can, but he did not do that," Mr Singh's former press advisor Sanjaya Baru told Tehelka. Mr Baru says the prime minister "never assumed that authority".)
Still others say the fabled Delhi diarchy - Mr Singh would run the government, while the powerful Congress party chief Sonia Gandhi ran the party - has failed. One commentator likens the prime minister to a CEO who was not allowed to pick his own team: "the proprietor [Sonia Gandhi] did so for him".
One of the more perceptive and well-argued critiques has come from journalist Mihir Sharma. Writing in Business Standard, he said Mr Singh's "mismanagement of the economy" had hit his image hardest. Also, he wrote, the scandals over allocation of telecom spectrum and coalfields stemmed from his "hurry" to speed up building much-needed infrastructure without sufficient regulatory capacity.
The irony is that Indians never really get to hear Mr Singh's defence. Painfully media-shy, he hardly gives interviews. Sonia Gandhi has also avoided the press. With less than a year set for general elections, this silence does not bode well for the future of Mr Singh's government and the Congress party.