Pakistani prisoner killed in Indian jail buried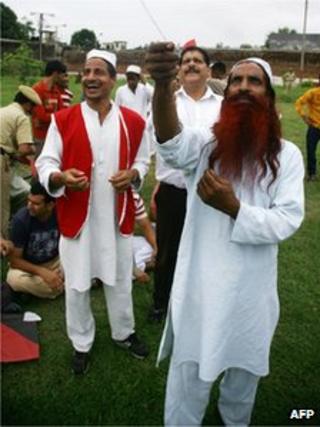 A Pakistani prisoner who was killed by a fellow inmate at a high-security prison in Indian-administered Kashmir has been buried in Pakistan, media reports say.
Sanaullah Ranjay died of multi-organ failure at a hospital in India's Chandigarh city early on Thursday.
Pakistan has demanded an international probe into Ranjay's death.
Ranjay was attacked on the day that an Indian prisoner died after being attacked in a Pakistani jail.
Sarabjit Singh, sentenced to death by Pakistan in 1991 for spying, had been attacked by inmates in Lahore's Kot Lakhpat jail a week earlier.
'Justice sought'
Ranjay, jailed for the past 17 years on militancy-related charges, was attacked on 3 May at Kot Bhalwal prison in Jammu by a former Indian army soldier convicted of murder, after a row.
The former soldier has been arrested and remanded to judicial custody.
Ranjay's body was flown to Sialkot in Pakistan from Chandigarh on Thursday evening. Before the flight, a medical panel carried out a post mortem examination.
Pakistani media reports said Ranjay was buried with state honours in his native Oora village late on Thursday.
Reports said thousands of people and a number of officials gathered in the village for the funeral.
India says an inquiry will be held into the attack. Pakistan has called the death an "extra-judicial killing" and demanded an international investigation.
"We have conveyed our concern to the government of India in this regard and demanded that an investigation into the incident be held and perpetrators of this heinous crime be brought to justice," the Pakistani foreign minister was quoted as saying by the AFP news agency.
India said an "advisory had been issued to strengthen security for Pakistani prisoners in Indian jails".
There were 535 Indian prisoners, including 483 fishermen, in Pakistani jails and 272 Pakistani prisoners in Indian jails, India's foreign ministry said in a statement.