Sanaullah Ranjay: Pakistan's top diplomat visits India hospital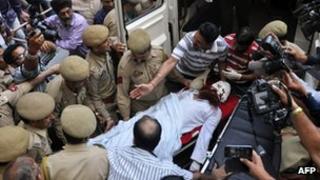 Pakistan's top diplomat in India has visited a Pakistani prisoner who was attacked by a fellow inmate at a high-security prison in Indian-administered Kashmir, Pakistani officials say.
High Commissioner Salman Bashir visited the hospital in Chandigarh city where Sanaullah Ranjay is admitted in a critical condition, they said.
Ranjay suffered injuries in the attack at Kot Bhalwal jail in Jammu on Friday.
He has been in prison for the past 17 years on militancy-related charges.
The attack happened on a day when an Indian prisoner, convicted of spying in Pakistan and killed in a Pakistani jail last week, was cremated in India.
Sarabjit Singh, sentenced to death by Pakistan in 1991, died after being attacked with bricks by inmates in Lahore's Kot Lakhpat jail.
'Critically sick'
Pakistani High Commissioner Salman Bashir visited Ranjay in hospital on Monday, the press officer at the Pakistan High Commission, Manzoor Ali Memon, told the BBC.
He said arrangements were being made to enable Ranjay's family in Pakistan to cross the border and visit him in the hospital.
Doctors say Ranjay - wrongly named as Sanaullah Haq earlier by Indian authorities - was "critically sick and in a deep coma".
Police said he was attacked by a former Indian army soldier convicted of murder on Friday morning after an argument between the two men.
Pakistan's government has expressed "deep concern" over the attack and said it was "obvious retaliation" for the killing of Sarabjit Singh.
Pakistan and India frequently arrest each other's citizens, often accusing them of being spies after they have strayed across the land or maritime border.
In recent years, several Indians returning from Pakistani jails have admitted to spying.