Sarabjit Singh death: Indian media reaction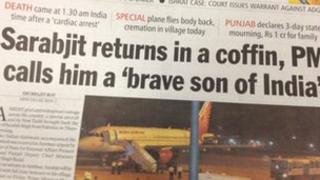 The death of an Indian man convicted for spying in Pakistan after being attacked last week by other inmates in a jail in Lahore has featured on the front pages of Indian newspapers.
India's media said Sarabjit Singh's death had highlighted the plight of prisoners "caught on the wrong side of the border".
Singh died in a hospital on Thursday.
His death has caused outrage in India. Delhi said the attack was "barbaric".
The issue risks stirring fresh tensions in relations between the nuclear-armed neighbours and long-time rivals, correspondents say.
'Whimsical'
"There are hundreds of Indian prisoners in Pakistani jails, many of them fishermen caught on the wrong side of the border, just as there are hundreds of Pakistani nationals in Indian jails," said The Indian Express newspaper.
"Both systems are marred by slow, often whimsical, delivery of justice. Both sides have a terrible record on prisoner safety. In both countries, jails are overcrowded and violent."
The Hindustan Times said many of Indian and Pakistani prisoners languishing in each other's jails were the "collateral damage of the great subcontinental rivalry".
"India and Pakistan should consider setting up a joint tribunal, staffed by professional judges from both sides, whose job would be to quickly decide on the fate of these unfortunates. It is safe to say that the vast bulk of these people would simply be sent back home," the newspaper said.
Mint newspaper described Singh's death as an "execution".
"His fate is in striking contrast to how India has treated Pakistan prisoners - terrorists and murderers alike - detained by it," the newspaper said.
However, The Indian Express said India's government should "maintain a sense of proportion" in its response to Singh's killing.
"The India-Pakistan diplomatic endeavour is a fragile and important one. At a time like this, the task of leadership is to restore a sense of proportion and perspective."
The newspaper said Singh's death was a "scandal and indicts the state whose custody he was in".
"But any attempt to pump up this sobering moment into a confrontation between two nations must be squarely and firmly resisted."
The Times of India said Singh's death is "the latest in a series of blows to India-Pakistan ties".
The Asian Age echoed a similar sentiment, saying the incident was "new point of friction" between the two neighbours.