India's outrage over Sarabjit Singh death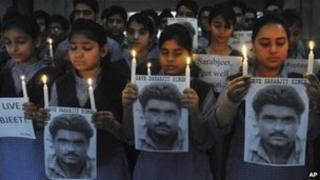 There has been outrage in India over the death of Sarabjit Singh, an Indian man convicted of spying by Pakistan, who was brutally attacked last week by fellow inmates.
A lot of the "anger" has been played out on TV news channels. Some of them described Singh, who died in a Lahore hospital, as a "martyr".
India's social media are predictably buzzing with sentiments ranging from the maudlin to revulsion.
Bollywood star Salman Khan said it was "freedom at last" for Singh; Actress Sonam Kapoor said she felt "betrayed as an Indian". A leading script-writer and poet, Javed Akhtar, described Singh's death as an act of "extreme meanness by a very petty minded establishment".
'Lonely battle'
The leader of the Hindu nationalist Bharatiya Janata Party (BJP), Sushma Swaraj, unsurprisingly, called it "cold blooded murder". Senior journalist Rajdeep Sardesai tried to knock some sense into the debate, asking where all the rage had been when Sarabjit's family fought their "lonely battle for years".
Owais Sheikh, Sarabjit Singh's lawyer in Lahore for the past four years, told me he had been lodged in a solitary cell like other prisoners on death row.
"I have heard reports that he was attacked by two inmates with steel bars when he was returning to his cell from a 15-minute walk which the guards used to take him out for every evening," Mr Sheikh said.
"The question is how could such an attack happen in custody? It's a mystery. I am waiting for the inquiry report."
In many ways, the flare up of emotions over Singh's death again brings to the fore the neuroses that mark relations between the two nuclear-armed, estranged South Asian siblings.
But much of the distrust and misgivings, many believe, are rooted in grim realities, which sometimes escape attention.
One of them, says former top diplomat Chinmaya Gharekhan, is Pakistan's "failure" to protect Singh in custody.
Singh had complained last year that he was being ill-treated in prison and that he feared for his life. On the other hand, says Mr Garekhan, India spent $3m to set up a special cell and protect Mohammad Ajmal Amir Qasab, a Pakistani who was the sole surviving gunman from the 2008 Mumbai attacks. He was executed last November.
"This is really the bigger point," Mr Gharekhan tells me. "We managed to protect Qasab, who was convicted on a charge of terrorism, in custody. Pakistan failed to protect Singh. This is an issue which will rankle with many people."
Others, like former diplomat Kanwal Sibal, say that Pakistan could have defused the situation "somewhat" by taking quick, exemplary action against officials of the prison where Singh was lodged - "like sacking the jail chief" - and by telling India that it would allow him to be sent to India for treatment, a demand raised by his family. "It would have been a political gesture," he says.
So will Singh's death come as a fresh setback to the tetchy relations between the two neighbours? Hardly, believe diplomats in India. Relations, they say, will remain frozen until general elections have been held in both countries. Pakistan goes to the polls in a week, India not for another year. Diplomats believe Singh's death may become political fodder for the BJP in the run-up to general elections next year, but may not end up fetching many votes.
The larger question is how the two countries treat each other's prisoners, held for lesser charges like straying into each other's territory.
Hundreds of Indians and Pakistanis are languishing in each other's jails, many after completing their sentences. One Pakistani man in India has been stranded for 13 years for overstaying by just three days. Both countries appear to have abandoned him to his tragic fate, a BBC investigation found last year.
Diplomats and rights activists believe it is high time the two countries forge an agreement on how to treat each other's prisoners held on lesser charges. The unfortunate death of Sarabjit Singh again highlights how ordinary citizens have actually become the biggest victims of an intractable rivalry.