Indian actor Farhan Akhtar's campaign for women's rights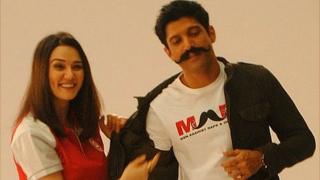 Bollywood actor-director Farhan Akhtar is promoting a campaign called MARD - Men Against Rape and Discrimination - to get Indian men to respect women at a time when the country is outraged over cases of brutal violence against women. He spoke to the BBC'S Rahul Tandon in Calcutta.
It has been a busy few weeks for Akhtar.
But then, that is the story of his life. If he is not acting, he is directing, or writing, or singing.
Here is a man who enjoys a challenge, which is good considering the scale of his new project, MARD.
This week, he has been in Calcutta, distributing thousands of plastic moustaches - the symbol of his campaign.
Moustaches in India are regarded as a symbol of masculinity and male honour and the campaign exhorts men to "stand up for the rights of women".
So why is one of India's most famous film stars so determined to bring about a change in the world's largest democracy?
He tells me that he "became angry and frustrated watching and reading about the way women are treated across India".
But, there is also the personal tragic story of someone who worked for his company, Excel Entertainment.
Serious issue
Pallavi Purkayastha, 25, a young lawyer with a successful career ahead of her, was murdered in her flat in August last year after a man tried to rape her.
"That was one of the reasons why I had to get involved. Why I had to do something. We all wonder what can we do to stop this, but nobody is telling us how we can do it."
I was at the Eden Gardens cricket ground when moustaches were given out to the crowd before an Indian Premier League (IPL) match. I could see many youngsters were enjoying, trying them on. It was fun.
But, this is a serious issue.
When I ask the actor why he feels some men here show such little respect for women, he says: "Look we come from a traditional patriarchal society and that mindset is mutating into something that is very dangerous.
"And the men who do not suffer from this disease - and that is what it is - they need to stand up and tell the others that you cannot behave like this because this is not what being a man is about."
Akhtar comes from an industry that knows how to capture the public's attention, and he is using all those skills in this campaign.
He is connecting with the youth of India through social media.
"It is important to target civil society and demand that it changes. We have to tell men that if you do not treat women as equals, if you do not treat your son and daughter as equals, if you hit a woman, if you molest a woman, then you are not fit to be a part of this society."
Akhtar, who is also father to two daughters, says he worries about their future.
"I am no different from any other parent. I want them to have a full life. I want them to be able to go wherever they want with their friends safely and knowing that there are people looking out for them. And for that, I have to look out for other people."
'Lead by example'
The actor feels that there is little civic sense in India and at times, in this country of 1.3 billion people, it is every man and woman for themselves.
And that is something that he wants to change although he is aware that in a country, which he describes "as one that it divided between the haves and the have-nots, that will not be easy".
Since the rape and murder of the 23-year-old student in Delhi in December, the Hindi film industry has been criticised for the way that it portrays women on screen.
Some, like his father scriptwriter, Javed Akhtar, have agreed with the critics, but many others in the industry have dismissed them.
So as a man who has been behind and in front of the camera, what are Akhtar's views?
"There are a lot of people who do crude work, but there are also a lot of people who do good work in the film industry.
"But we have to lead by example and it is also up to the audience to tell filmmakers who objectify women that they will not watch those movies. That is not happening now but if people start thinking differently, then it will."
So where does Akhtar's campaign go next?
He says he will visit schools and colleges to get his message across.
"I do not want this to be about me. I want the people to decide where it goes and how it evolves."