India plea to Pakistan over beaten Sarabjit Singh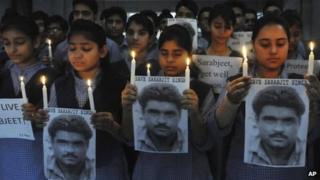 India has appealed to Pakistan to release Sarabjit Singh, who is in a coma in Pakistan where he has been held since his conviction for spying.
In a foreign ministry statement, India urged Pakistan to take a "sympathetic and humanitarian" view of the case.
Singh, a high-profile prisoner on death row for more than 21 years, was attacked by inmates armed with bricks in Lahore's Kot Lakhpat jail last week.
Doctors say he is a critical condition in the intensive care unit.
Singh was sentenced for four bomb attacks that killed 14 people in Lahore and Faisalabad in 1990.
His family say he is innocent and strayed across the border in Punjab by accident.
"In view of the recent tragic events and present circumstances, we once again appeal to the government of Pakistan to take a sympathetic and humanitarian view of this case, and release Sarabjit Singh," a statement issued by India's foreign ministry said.
"Officials of the Indian High Commission are in touch with the medical authorities at Jinnah Hospital Lahore [where Singh has been admitted] and we would like to consider the option of transferring Sarabjit Singh to India so that he can benefit from the best medical treatment available here."
The statement said it was clear from the latest medical bulletin put out by doctors in Pakistan that Singh's condition "remains critical".
Singh's sister Daljit Kaur told BBC Hindi after visiting the hospital that the family wanted him to be taken abroad for treatment.
'Very sad'
There has been no official Pakistani reaction to India's plea, though some reports quoted senior Pakistani minister Ariz Nizami as saying that Singh was being given the "best possible care" and there were no plans to shift him.
Prime Minister Manmohan Singh has described the attack on Singh as "very sad" and there have been protests in India over the incident.
Sarabjit Singh was reportedly attacked on Friday as he and other prisoners were brought out of their cells for a one-hour break.
Two inmates have been charged with attempted murder and two officials suspended.
Tensions have increased in the past six months with the execution in India of Kashmiri Afzul Guru over the attack on India's parliament 11 years ago, and of Mohammed Ajmal Qasab, the sole surviving attacker from the 2008 Mumbai attacks.
Sarabjit Singh's lawyer Owais Sheikh has said his client had received threats after Guru's execution.