India axe attacker 'kills nine' in Chhattisgarh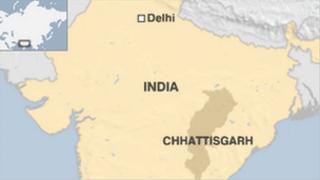 A man has gone on a rampage with an axe in a village in central India, killing four women and five girls, police say.
The motive for the attack in Chhattisgarh state is unclear but police said the man, named as Panduram, appeared to be having "mental problems". They added that the man had recently been left by his wife.
All the victims were female as the village's men were reportedly away at work during the day.
The man, 35, has been arrested.
His weapon was also seized by police.
Local authorities announced that compensation of 25,000 rupees ($450; £300) each would be paid to the families of the deceased, according to the Press Trust of India.
Correspondents say violent attacks on women have been in greater focus in India since the fatal gang rape of a young student in Delhi last December which led to widespread protests.