Santosh Maruti Mane: India convicts Pune driver of murder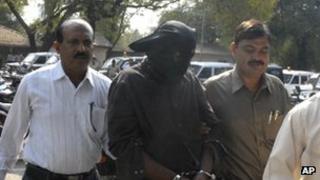 A court in India has delivered a guilty verdict against a bus driver who smashed into vehicles and pedestrians in the city of Pune last year, killing nine people and injuring nearly 30.
Santosh Maruti Mane, would be sentenced on Monday, the court in Pune said.
The 30-year-old driver had gone on a 25km (17 mile) rampage during the morning rush hour.
He had damaged nearly 40 vehicles before the bus was brought to a halt after 30 minutes and he was arrested.
Mr Mane was a driver with the government-run state transport department.
On 27 January, the day of the incident, police said he arrived at a bus depot early and drove off with an empty bus.
Eyewitnesses said he drove the vehicle at very high speed and on the wrong side of the road through busy areas, running over pedestrians and smashing into vehicles.