Italian marines row: India lifts travel ban on Rome envoy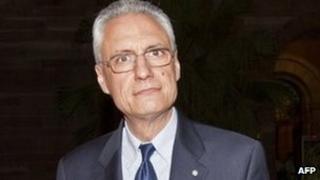 India's Supreme Court has withdrawn its earlier order barring the Italian ambassador from leaving India after a row over two Italian marines accused of killing two Indian fishermen.
Ambassador Daniele Mancini was barred from leaving India last month after Rome said the marines would not return.
The marines returned after a bitter diplomatic row between India and Italy.
The court had allowed Massimiliano Latorre and Salvatore Girone to travel home to vote in the February election.
The marines were ordered to return in four weeks to stand trial in India.
Ambassador Mancini had given his personal assurance that they would return within four weeks.
The marines are accused of shooting the fishermen off the Kerala coast in February 2012. They had been guarding an Italian oil tanker and said they mistook the fishermen for pirates.
On Tuesday, the Supreme Court asked the government to set up of a special court to try the marines.
The court said it would hear the matter again on 16 April.
The marines returned to India on 22 March in an Italian military plane, accompanied by Deputy Foreign Minister Staffan de Mistura.
The Italian government said it had received assurances about the men's treatment and their human rights.
Their return eased diplomatic tensions between Delhi and Rome.
Italy has always insisted that as the shooting had taken place in international waters, the men should be tried in Italy.