Sanjay Dutt: Bollywood's bad boy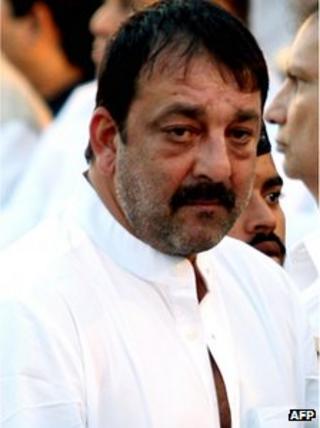 Sanjay Dutt is arguably the most controversial star in the history of Bollywood.
India's Supreme Court has ruled that Dutt must return to prison for his role in a series of bombings in Mumbai (Bombay), which killed 257 people and wounded 713.
A "shattered" Dutt has said he will "abide by the court's order" and not seek a pardon.
The 53-year-old actor, son of the late actor-politician Sunil Dutt and actress Nargis, had been earlier convicted of possessing arms and ammunition in his upmarket Mumbai residence.
The arms were allegedly part of the main consignment used in the blasts. But Dutt was cleared of all conspiracy charges related to the blasts.
The actor has been on bail since 2007 when he appealed against his original sentence of six years. The Supreme Court has now reduced it to five years.
Despite an early drug addiction in college - "That was it for nine years of my life," he once told an interviewer - and his time in prison, Dutt has gone on to star in more than 100 Bollywood films, making a name in action-packed gangland films and also revealing a yen for comedy.
Gawky
Dutt made his debut in 1981 as a gawky 22-year-old in a typical Bollywood revenge film of its times, Rocky, directed by his father, who later became a federal sports minister with India's ruling Congress party.
The film did modestly and marked the arrival of Dutt as another star son in an industry where producer-director parents routinely launch their children as lead actors.
His mother Nargis, a luminous beauty and a star actress of her generation, died of cancer in the same year he debuted.
Over the years, Sanjay Dutt has had a chequered career with a mixed bag of films, mostly revelling in the role of a macho, gangland don, sometimes with a soft heart.
One of his most popular films called Khalnayak (The Villain) ironically coincided with his arrest in the Mumbai blast case and became a huge hit.
Dutt has won himself a fan following with a curious combination of gangster and comic roles.
His most popular screen character was in the hit Munnabhai movies - light comedies where he played a brawny, bumbling soft-hearted gangster.
Dutt even set up a production company with director Sanjay Gupta to star and make a number of films - one of them, Kaante, a watered-down Bollywood version of Quentin Tarantino's Reservoir Dogs, became a minor cult film.
Controversy continued to dog Dutt's rising fortunes in Bollywood when an audiotape surfaced in the media in 2001 where the star was allegedly in conversation with an underworld figure, Chotta Shakeel, based in Pakistan.
Nothing much transpired from this alleged phone conversation where, among other things, Dutt allegedly complained about a fellow star, Govinda, who usually "came late to the sets".
Dutt entered politics by campaigning for the regional Samajwadi Party during the 2009 general elections.
He was meant to be the candidate himself, until the Indian Supreme Court disqualified him from elections.
The star told the crowd during the campaign that he entered politics "to warn the people so that they didn't go through what I have had to go through in my life".
"My father was an MP for 18 years, but I was arrested and held under Tada [India's strict anti-terrorism law]. I was beaten up by the police. Now if that can happen to me, can it not happen to you?," he told a public meeting.
In 2011, Dutt hosted Bigg Boss, the Indian version of Big Brother.
"I don't remember any phase in my life where there have been no problems," Dutt once told interviewer Simi Garewal.
Garewal asked the thrice-married star whether it was "strange fate that makes you go through one ordeal after the other".
"Maybe I am the chosen one," he replied.