India Karnataka assembly polls set for 5 May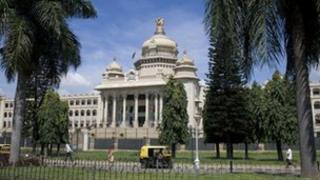 Polls to elect a new assembly in the southern Indian state of Karnataka will be held on 5 May, India's Election Commission has announced.
Counting of votes for the 224-member house is scheduled for 8 May.
Correspondents say the state's ruling Hindu nationalist Bharatiya Janata Party will be pitted against Congress, the main party in India's government.
Karnataka, home to the information technology industry, is the only southern state ruled by the BJP.
But in recent months it has lost ground there with allegations of corruption against senior state party leaders.
In November, the BJP suffered a major setback after senior leader and former state chief minister BS Yeddyurappa resigned to form his own party.
Elections officials say more than 50,000 polling centres will be set up for Karnataka's 41.8 million eligible voters.