India's Super-12: Helping poor students crack competitive exams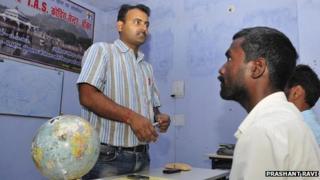 A tutoring institution run by two civil servants in a district dominated by Maoist rebels in the northern Indian state of Bihar has given hope to many local people who are living in the shadow of the conflict.
Deepak Anand and Mithilesh Mishra opened their centre - the Super-12 - in the remote tribal district of Banka where they are posted as officers.
The centre provides free coaching, food and accommodation to 12 students as they prepare for the civil services examination - considered to be the most difficult competitive exam in the country.
Every year, hundreds of thousands of students appear for the exam and only a small percentage of them pass and become eligible for a job as a civil servant in the Indian government.
'Humble backgrounds'
Both the officers come from humble family backgrounds.
"Banka is an under-developed district with very limited educational facilities. So we wanted to do something for the youth here who wish to study, but who do not have proper guidance and study materials," they said.
Banka is a remote, hilly, inaccessible border district bereft of basic infrastructure like electricity, water, hospitals and education, and more than 40% of its inhabitants are tribals.
Most of the region is under the control of Maoist rebels and government officials are afraid to go there even during the daytime.
When they first advertised for admission to their centre in the local newspaper, they received hundreds of applications.
"After some scrutiny, we chose 354 students to appear in the preliminary test, out of which 60 were selected for the main test," said Mithilesh Mishra, who passed his civil service examination in 2011.
"We chose 21 from the 60 for the interview and then finally selected 12 of them, including a female student," he added.
They opened the centre with the "chosen 12" on 12 December 2012 in a school building.
Twenty-four-year-old Kamdeo Das, son of a poor farmer from Chapariadih village, is one of the lucky 12.
"One day, the Maoists came to my village and asked the youth to join them. I refused and fled the village to escape their wrath," said Mr Das, who was the first post-graduate in his village.
"I had a dream to become a civil servant and to serve the most deprived sections of society. I did not want to join the Maoists."
Amit Kumar Sah, 20, a history graduate from Barhouna village, also made it through to the Super-12.
His father, Kapildeo Sah, runs a small shop in their village with which he supports his family.
"Since childhood, I wanted to become an administrative officer so that I could help poor villagers and protect them from the deadly Maoists," he says.
'Marked improvement'
Mr Mishra says the students have been provided all the study materials they need to cover the syllabus and they are being encouraged to study hard.
"After three months, we can see that there has been a marked improvement," he said.
The two officers have also involved other government officials, like senior deputy collector Lalit Kumar Singh, who regularly teach the students.
"Besides, taking classes of general studies and English, I also encourage the students to listen to BBC radio news every day," says Mr Singh.
Mr Mishra agrees: "Listening regularly to the BBC helped me a lot while I was preparing for my civil service examination."
The two officers say they are confident that at least half of the 12 students will crack the exam this year.
Mr Mishra says he recently took his students on a week-long study tour to Delhi.
"I took them to different well-known coaching institutes for civil services to show them it's not very different from what they have been getting in Banka," he says.
"What counts ultimately is the proper guidance and how hard you study," says student Virendra Kumar whose father is a daily-wage labourer.
For Mr Kumar, his shot at the civil services examination could be the turning point in his life, giving him his one chance to escape from poverty.
His friend and fellow student Gyan Vikas agrees: "If Super-12 had not happened, our dream would have remained just a dream."
The students are confident they will pass the examination. "Come what may, we will crack it," they say.
Mr Anand and Mr Mishra say that will be their real reward.