India turns up pressure on Italy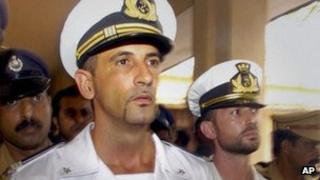 India is turning up the pressure on Italy as fury grows over Rome's decision not to return the two accused marines.
All Indian airports and other border points have been told to prevent the Italian ambassador Daniele Mancini from leaving if he tries to do so.
The ambassador had earlier said he had no plans to go after hearing of the Indian Supreme Court's restraining order - so this looks like calculated escalation.
With no sign of Italy backing down, India is considering further retaliation.
"Italy is reneging on an assurance to our highest court," said foreign ministry spokesman Syed Akbaruddin.
Even the UN Secretary General Ban Ki Moon has become involved, calling for a peaceful resolution to the dispute.
The families of the two dead fishermen are keeping up the pressure for their alleged killers to be returned, while opposition politicians pummel the Indian government for its handling of the case.
There has been no comment from the Italian embassy here. But the Italian position is that marines should be tried in Rome because it maintains the shooting happened in international waters - something India disputes.
What makes Italy's position more complicated is the personal assurance Mr Mancini gave to the Indian Supreme Court that the two marines would return.
India argues that means he has willingly subjected himself to the jurisdiction of Indian courts despite his diplomatic status.
It is on those grounds that it rejects suggestions that it is compromising the 1961 Vienna convention which governs diplomatic relations.
Many other diplomats in Delhi - and even the Indian government - have expressed surprise that Italy gave such an assurance in court.
"We would never allow Indian diplomats to do the same," Mr Akbaruddin said.
The next step will come on Monday when Ambassador Mancini has to explain Italy's position to the Supreme Court.