Rahul Gandhi: No plans to become prime minister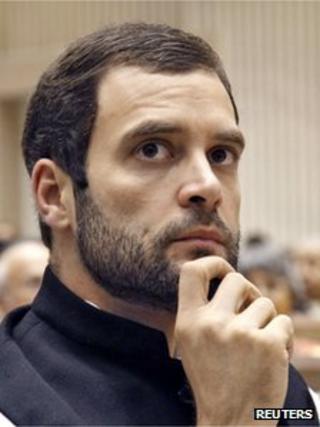 India's ruling Congress party leader Rahul Gandhi has said he has no plans to become prime minister.
"Asking me whether you want to be the prime minister is a wrong question," Mr Gandhi told party MPs.
The 42-year-old leader is widely expected to be the party's candidate for prime minister in next year's general elections.
In January Mr Gandhi was appointed as the party's vice-president. His mother, Sonia Gandhi, is the president.
"The prime minister's post is not my priority. I believe in long-term politics," he was quoted as telling party MPs at a meeting on Tuesday by the Press Trust of India news agency.
Correspondents say the remarks are significant given the rising clamour among Congress party leaders to project him as the prime ministerial candidate.
Mr Gandhi told MPs that revitalising the party was his priority.
"Today I see how MPs feel without power and it is the same story in all the parties, be it Congress or [the main opposition] BJP. I want to empower the 720-odd MPs in parliament," he said.
"I want to give voice to the middle tier... Empower the middle-level leaders.
"There are some parties in India which are run by one leader, two leaders, five to six leaders and 15 to 20 leaders. My priority is that I want to empower the MPs as also the 5,000-odd legislators in various states."
In November, Mr Gandhi was appointed the head of a committee which will look after party activities relating to the 2014 elections.
The two-term Congress government - which has been hit by corruption allegations and claims of inaction - is expected to face a tough general election, correspondents say.