India's budget: A deft balancing act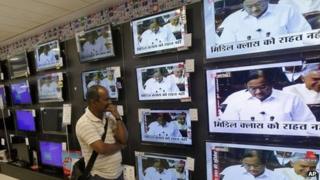 India's finance minister has attempted a deft balancing act between the pressures of populism and the imperatives of austerity in the annual budget.
With one eye on the global rating agencies that threatened to downgrade India to junk status, P Chidambaram has ruthlessly slashed expenditure in 2012-13 to contain the fiscal deficit.
But with another eye on the crucial general elections next year, he liberally raised public expenditure for the coming financial year (2013-14) on welfare schemes such as rural roads, employment guarantee and food security.
However, he still managed the almost impossible task of raising expenses and yet curbing the fiscal deficit for next year.
'Financial rabbit'
How did Mr Chidambaram pull this financial rabbit out of his budget hat?
He has estimated that government revenues will perk up by more than 20% in 2013-14.
That optimistic figure assumes a growth rate of about 7% in 2013-14, or much higher than the projected rate this year.
It also implies that inflation will continue to be high; a combination of prices and growth will translate into larger government revenues.
At the same time, Mr Chidambaram estimates that he will earn huge revenues in 2013-14 by taxing the super-rich and upper-middle class.
He increased taxes on about 43,000 individuals and firms earning more than 10m rupees ($183,784; £121,075) a year, mobile phone users, buyers of luxury vehicles and consumers of cigarettes.
In addition, he predicted that revenues from the disinvestment of state-owned companies would go up by more than 80%, while an additional 408bn rupees ($7.4bn; £4.9) will be earned through the auction of airwave spectrum and other surcharges and fees on mobile telecom operators.
The advantage that Mr Chidambaram enjoys is that even if his estimates on growth and revenues are not achieved in 2013-14, he will not be answerable.
His next budget, if he does present it, will only be after the 2014 general elections.
If the numbers prove to be wrong, so be it, as long as the global rating agencies and key vote banks go away happy with this year's budget.
Although the expenditure on welfare schemes for 2013-14 has gone up, they are a bit skewed.
The hikes have been higher than the revised estimates for 2012-13, which were anyway lower than what was projected by the previous finance minister, Pranab Mukherjee.
Hence, the increases look more impressive than they really are.
More importantly, the country's defence budget for 2013-14 has moderately increased by 4.5%, which is below the current inflation rate.