Amritsar massacre families: Cameron 'should have said sorry'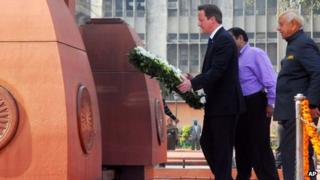 British Prime Minister David Cameron has visited the Jallianwala Bagh memorial, the scene of one of the bloodiest massacres in British history, on Wednesday.
The prime minister described the massacre as "a deeply shameful event in British history", but stopped short of offering a formal apology.
Although public interest in Mr Cameron's visit in India, has been muted, some had called on him to apologise.
Here, some family members of those killed in the massacre tell the BBC that Mr Cameron "should have said sorry".
SUNIL KAPOOR
My great-grandmother was only 18 and pregnant when her husband, Vasu Mal Kapoor, was shot dead at Jallianwala Bagh.
It was as if the world had ended for her, but she had to live for her child. She took charge of the clothes' shop that her husband ran and raised her family. My great-grandfather's name is in the government records. We still run that shop and think of them everyday.
We grew up hating what had happened here. But when we heard that Prime Minister Cameron was coming here and there was a possibility of his apologising, we hoped that our wounds would heal. But our hopes are shattered.
It seems he came here on a political visit, not to pay tributes to the martyrs. Clearly he wanted to impress the Punjabi voters in the UK and he has the upcoming British elections in mind. It is not a big deal that he came here. But it would have been a big deal had he apologised here.
Mr Cameron said the massacre was "shameful" but that's his personal feeling. That's what he has recorded here. He should have apologised to the families of those who took bullets on their chests.
NANISH BEHL
Mr great-grandfather Lala Hari Ram Behl died here at the age of 55. He was a lawyer and had a good practice.
But the massacre jolted our family. My grandfather was only two years old and the family's responsibility fell on the shoulders of my great-grandmother. With a two-year-old son and three daughters to look after, her life became extremely tough.
Being the only male child, my grandfather could not study much and had to join his mother in supporting the family.
I am not at all satisfied with Mr Cameron's visit. We have always considered this massacre in our family as a massive tragedy. That's why we had hoped that Mr Cameron would apologise on behalf of what his nation's forces did.
There is a lot of difference between tendering an apology and being shameful. We wanted him to say sorry. The truth is that he hasn't said sorry to the martyrs.
We had asked the district administration and the state government to allow us into the memorial for this event, but I don't know why we were not allowed in.
TEK CHAND
My grandfather Khushi Ram died here. He was only 26. My father was only three when tragedy struck.
My grandmother had to do whatever she could to raise the family alone. There were no jobs then and it was not common for women to go out. Yet, she managed it.
We heard about the massacre and we saw the hardships that my family went through, and after all this, we could at least expect an apology from the British prime minister.
We wanted to meet Mr Cameron. I don't know why the government did not allow us to do that.
Instead, they cordoned off the entire area and we were not allowed in. Had he called the massacre shameful in front of us, it would have given us a lot of peace.
We were hopeful we would be called here and hear the prime minister's apology. But by not saying sorry, Mr Cameron has rubbed salt into our wounds.
Before the Queen did not say sorry [during her visit to Amritsar in 1997] and now the prime minister has not apologised.
SUKUMAR MUKHERJEE
My grandfather, Dr SC Mukherjee, was one of the few people who survived the massacre.
I believe that what the British prime minister said today [Wednesday] was enough. He went down on his knees and offered floral tributes to the martyrs.
His remarks show that he deeply regrets it, he called it as deeply shameful. What more do you want?
I hear that some families are saying he should have apologised. Well, it could be their feeling.
My thinking is that it is a big gesture that Mr Cameron has come and paid tribute to the victims. It is nothing less than apologising.
This is a historic event and like many others, his remarks will be treasured for a long time.