India holds three for rape and murder of sisters
20 February 2013

From the section

India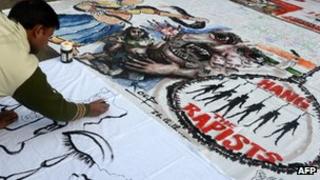 Police in India have detained three men in the western state of Maharashtra in connection with the rape and murder of three sisters.
The girls, aged six to 11, had been missing since 14 February.
Their bodies were found two days later in a well in their village in Bhandara district, 200km (124 miles) from Mumbai, police said.
The incident comes barely two months after the fatal gang rape of a student in Delhi caused outrage across India.
Police said the post-mortem reports of the three girls had confirmed that they were raped and murdered.
Bhandara police chief Aarti Singh told the BBC that the motive behind the crime was not yet known.
"The girls' mother believes the involvement of an acquaintance in the crime, but we are not sure," she said.
Meanwhile, angry villagers have protested against the crime, which comes after of the rape and murder of a female student on a Delhi bus in December. Five men are currently standing trial in that case.
Recently, India's president approved harsher punishment for rapists. The amended law raised the minimum punishment for anyone convicted of raping a minor to 20 years and allowed the death penalty in extreme cases.