India v Australia: The return of an epic cricket rivalry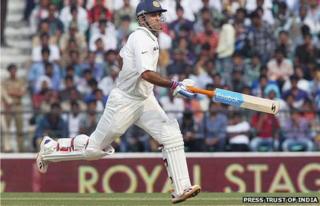 A high-profile Test series between India and Australia begins in the Indian city of Chennai on Friday. Sports writer Suresh Menon on why the contest is key to the futures of the two captains.
It is tempting to see India and Australia as two sides of the same coin.
Two teams who will miss a couple of champion batsmen - Ricky Ponting and Michael Hussey on the one hand and Rahul Dravid and VVS Laxman on the other.
Two teams who were world number one but have lost ground recently.
Two teams struggling to find the ideal all rounder to bat at number six.
Two teams led by proud, accomplished men who have travelled in opposite directions: Michael Clarke from being an outsider to the nation's favourite and MS Dhoni, once the toast of the nation and now struggling to keep his job.
That Australia have the superior fast bowlers may be countered by India's spinners. If three of them play in the XI, it will be a return to the old days when spin ruled, but might surprise some of the younger followers of the game.
When India's late former captain Tiger Pataudi established the pattern set by earlier captains by having three spinners, he argued that the plan was to play the best bowlers regardless of the length of their run-up.
India have another worry on their hands. It is the number four slot.
Sachin Tendulkar has made it his, but is it likely that he will go to South Africa where India play later in the year?
The possibility of his calling it a day has existed for a while, and the selectors have generally taken the attitude that they will cross that bridge when they come to it. Which means that four Tests later, there will suddenly be two slots to be filled in the batting.
Yet, somehow, one feels the focus in the series will be on the two captains.
Clarke marked his debut with 151 in Bangalore nine years ago when he was already seen as a future captain.
Yet there was something almost un-Australian about him that delayed acceptance.
He was charming, smart, steeped in the history of the game, had a model girlfriend, dressed differently, and caused the kind of confusion that David Gower prompted in England for being different.
He has said that he sees the tour of India as a tough assignment, and with back-to-back Ashes series to follow, he will be looking to establish his credentials beyond all reasonable doubt.
Fall from grace
Dhoni's case is intriguing.
The only India captain to win two World Cups, he could do nothing wrong until about 20 months ago.
Then came the 4-0 Test series thumping in England followed by the 4-0 hammering in Australia, and in between his own stated preference for the shorter formats of the game.
At least one national selector was forced to quit because he dared to call Dhoni to account for India's poor performances and sought a change in captaincy.
The cynics have had a field day since.
A former cricketer said recently that Dhoni's captaincy was secure now that he had been taken on board as vice-president of a firm owned by the chief of India's cricket board, whose Indian Premier League (IPL) team he captains.
The overlapping of interests may be a coincidence, of course, but it will be interesting to see Dhoni the captain operate over the next four Tests.
Will he survive another defeat after presiding over the first series defeat at home against England in 28 years?
There is something fascinating about following the fortunes of a team in transition. And the role of the captains will be crucial.
For Dhoni, it is a chance to redeem himself. Indian fans are easily forgiving and a series win at home against Australia will make up for the losses both home and away.
If he fails in any of his three roles - as batsman, wicketkeeper and captain - it will merely increase the pressure on an India team looking to steady itself after the recent results.
In fact, that could be the story of the series: how the captains react to pressure.
Clarke may have the better bowling but Dhoni has more to lose, and positive results sometimes come out of desperation.
Suresh Menon is the editor of Wisden India Cricketers' Almanack