India's CBI removes telecoms scandal prosecutor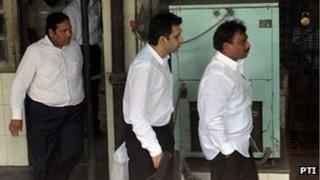 India's top investigation agency has removed a key member of its prosecution team from his post for alleged links with a suspect in a corruption scandal.
AK Singh of the Central Bureau of Investigation (CBI) was removed after a news channel broadcast a recording of him allegedly talking to the suspect.
The case relates to alleged mis-selling of telecoms licences. Government auditors say the scandal cost the country about $40bn (£24.5bn).
Mr Singh has made no comment.
News channel CNN-IBN broadcast what it said was a conversation between Mr Singh and Sanjay Chandra, the managing director of Unitech, a property company.
In the conversation, Mr Singh apparently tells Mr Chandra how a prosecution witness would testify in a special court which is hearing the case.
The CBI has now begun an investigation into the allegations.
It said in a statement that it "maintains strict vigilance over its officers and the prosecution and no instance of professional misconduct is taken lightly".
Unitech denied that the voice on the tape was that of Mr Chandra.
The company also said Mr Chandra had never met Mr Singh outside the court or had any phone conversation with him.
"It is nothing but an attempt to malign him and prejudice his defence in the case," the company said in a statement.
The telecoms scandal - often referred to as the 2G spectrum case - has badly damaged the reputation of the government.
Former telecommunications minister A Raja and Kanimozhi, a lawmaker from the DMK party, are among 14 people charged in connection with the case. They all deny any wrongdoing.