Indian officials find tunnel at Sabarmati jail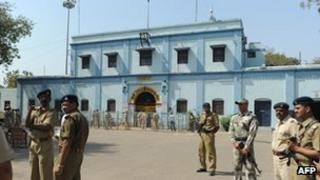 Indian authorities say they have foiled an attempt by inmates accused of deadly bombings to tunnel their way out of a jail in the western state of Gujarat.
The 18ft (5.4m) escape route was found in a part of Sabarmati jail that houses prisoners on trial for bombings that killed 57 people in Ahmedabad in 2008.
Jail officials say the tunnel may have been dug with dinner plates and wood.
Inmates volunteered to work in the prison garden, where they dumped the sand they had extracted, officials say.
Sabarmati Central Jail superintendent VM Parghi said the tools used to dig the tunnel had not yet been found.
But an investigation had begun to find out "how long the digging was on, how they were digging and who was involved", he was quoted by the Press Trust of India as saying.
"Out of 68 accused in the serial bomb blasts case, 14 were lodged in this barrack," said Mr Parghi.
On 26 July 2008, at least 17 bomb blasts in the space of an hour killed 57 people in Ahmedabad, the commercial capital of Gujarat, where religious riots killed more than 1,000 people, mostly Muslims, in 2002.
Local media reports at the time said a little-known Islamist group called the Indian Mujahideen claimed responsibility for the attacks in an email to a television channel.