India ban on Kamal Haasan film Vishwaroopam lifted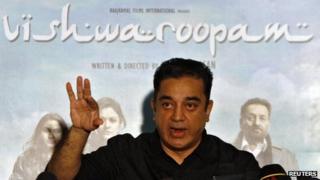 Authorities in India's Tamil Nadu state have lifted a ban on actor Kamal Haasan's film Vishwaroopam.
The actor-director has reportedly reached an agreement with Muslim groups who had objected to the film, saying it was derogatory to the community.
Kamal Haasan says it is "one of the most Muslim-friendly films in recent times".
The big budget film, made in the Tamil, Telugu and Hindi languages, has been cleared by the Censor Board.
Reports said Kamal Haasan had reached an agreement with the Muslim groups and agreed to delete a number of scenes from the film.
The groups have decided to call off their protests and withdraw legal cases filed against the filmmaker, reports say.
Last week, a judge lifted a Tamil Nadu government ban on the film imposed after Muslim groups objected to it. The high court then re-imposed a ban on the movie's release until 6 February.
Haasan is the producer, director and the star of the film, which was released abroad and in some states last week.
The film is now expected to be released in Tamil Nadu on Friday.