Rahul Gandhi to lead Congress poll campaign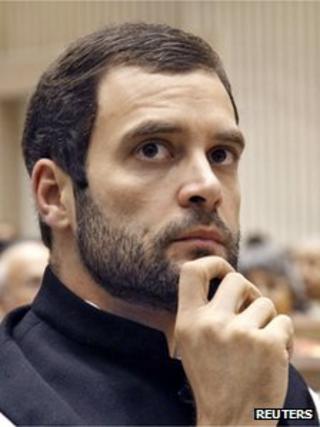 Congress party leader, Rahul Gandhi, has been appointed the head of a committee which will look after party activities relating to the 2014 general elections.
Correspondents say this appointment effectively means that Mr Gandhi will lead the campaign for the party.
Party leaders have been demanding a larger role for Mr Gandhi.
Support for Congress in its second term has been hit by economic concerns and corruption cases.
Last month, PM Manmohan Singh inducted 22 new ministers into the government in a major reshuffle, a move seen as an attempt to get younger politicians into the Congress party-led government ahead of general elections.
And, earlier this month, the party held a conclave, attended by 70 leaders, including Mr Gandhi and his mother and party chief, Sonia Gandhi.
The meeting was seen as another attempt to revitalise the party and government ahead of the polls.
Congress spokesman Janardhan Dwivedi said Mr Gandhi will head a party "coordination committee ... keeping in view the general elections to be held in 2014".
Results of elections in the states of Gujarat and Himachal Pradesh are expected by this year-end.
A number of crucial state polls in Madhya Pradesh, Chhattishgarh, Rajasthan and Delhi will be held next year ahead of the general elections.
The two-term Congress government is expected to face a tough general election in 2014, correspondents say.
It has been beset by allegations of corruption and inaction in its present second term.
The corruption cases include allegations involving the hosting of the 2010 Commonwealth Games, mobile phone licensing, coalfield allocations, embezzlement of charity funds and the actions of Mrs Gandhi's son-in-law Robert Vadra in property deals.