India v England: A revenge series?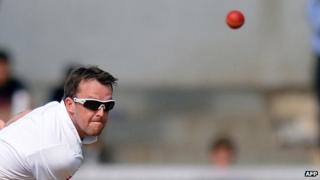 When leg-spinner Narendra Hirwani's 16 wickets on debut in 1988 helped India beat the West Indies on an under-prepared wicket in Chennai, legendary Windies captain Viv Richards told the Indian team: "Come to the West Indies and we'll show you."
There is no record of an Indian player threatening in similar vein after last year's 4-0 drubbing in England, but some of them probably said "come to India and we'll show you" quietly to themselves. And with good reason.
India have lost only two home series this century. Their home record against England since they lost a series to them in 1984-85 is impressive: six wins in 11 matches against a single loss.
England have equal cause to be confident, as the Indian batting is in transition and their bowling is in some disarray.
If turning tracks are prepared, England have in off-spinner Graeme Swann just the man to exploit them.
Yet injuries to pace bowlers Stuart Broad and Steven Finn and the family illness that caused Swann to rush back home for a few days means that the visitors go into the first Test, which begins in Ahmedabad on Thursday, a step behind the favourites.
Two approaches
There are two approaches to an opening Test of a series.
Get in your shot early, show who is boss and play to maintain that edge through the series.
The other is to go into a holding pattern while assessing the form and fitness of the opposition. This means playing not to lose rather than to win.
The texture of the four-match series, therefore will depend on the two captains and not so much on the spinners or the fast bowlers.
When Sunil Gavaskar led a patently superior Indian team against Keith Fletcher's Englishmen in 1981-82, India won the first Test in Mumbai, and decided that was enough.
They simply sat on that lead, and the result was the most boring series played on Indian soil as the five subsequent Tests were drawn.
India skipper Mahendra Singh Dhoni has the public image of an attacking captain, but as he has shown in home series, at the first hint of trouble he gets defensive, and as the Australians have discovered, even negative.
He can be aggressive when on top, but some of that nature might have been sandpapered away by the defeats in England and Australia recently.
He is aware that without Rahul Dravid and VVS Laxman, the middle order looks vulnerable despite the recent heroics of Virat Kohli and Cheteshwar Pujara.
Greatest worry
But it is the bowling that will cause Dhoni the greatest worry. It is unlikely that he will take the bold step of going into the first Test with three spinners, and he has to gamble on the fitness of his strike bowler Zaheer Khan, who limped off the field at Lord's with a hamstring injury on the first day of last summer's series against England and missed the rest of the series.
England skipper Alastair Cook has made it clear that he will not pick either Finn or Broad, or anybody else for that matter, unless the player is 100% fit. He has been making the more positive noises in the build-up to the series.
Part of this confidence comes from the return of Kevin Pietersen, the best batsman on either side, and one who may make the biggest difference in the series which is - for sentimental reasons if not cricketing ones - expected to be dominated by the Indian spinners.
That is, if he doesn't succumb early to the left-arm spin of either Pragyan Ojha or his nemesis Yuvraj Singh - who Pietersen famously dubbed a "pie-chucker" when they clashed during England's last Test visit to India in 2008.
The last time England won a series here in 1984-85, the bowling honours were split between spin and pace.
Left-arm spinner Phil Edmonds and off-spinner Pat Pocock had 14 and 13 wickets respectively while the pacemen Neil Foster and Norman Cowans took 14 apiece. And those pitches were prepared for spin, too.
If the captains don't ruin it with safety-first play and come out all guns blazing, this series promises much.
A settled England team with an Indian team in transition might suggest that the odds favour the former. But, in cricket as in all sport, home rules apply.
The BBC's Test Match Special will have ball-by-ball commentary on the India-England series on BBC 5 live sports extra, BBC Radio 4 Long Wave, and via the BBC Sport website, which will also have live text commentary on all the games.