India campaign against minister Khurshid suspended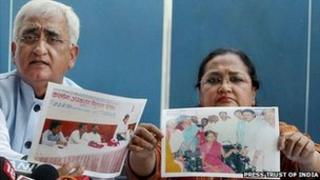 Anti-corruption campaigners in India have suspended a protest in Delhi against Law Minister Salman Khurshid who they accuse of embezzling funds for disabled people.
Campaigners said the venue of the protest would now move to Farrukhabad in Uttar Pradesh, where Mr Khurshid has his parliamentary seat.
The campaigners have demanded Mr Khurshid's resignation.
Mr Khurshid has denied the charges, saying none of them can be proved.
The allegations were first aired by Aj Tak news TV channel, which said that Mr Khurshid and his wife Louise allegedly misappropriated 7.1m rupees ($134,456; £83,815) given by the Social Welfare Ministry to the Zakir Hussain Memorial Trust.
The funds were meant for distributing cycles and hearing aids in 17 districts of Uttar Pradesh state.
The alleged fraud, the channel said, involved forged signatures of government officials, a fake court affidavit and non-existent camps to help the disabled.
Authorities have begun an investigation into the allegations.
Anti-corruption campaigners began a protest in the capital, Delhi, over the weekend demanding the resignation of Mr Khurshid.
Led by Arvind Kejriwal, activist-turned-politician, the campaigners wound up a four-day protest and said they would demonstrate in Farrukhabad, Mr Khurshid's parliamentary constituency, from 1 November.
Mr Khurshid has said he was open to an investigation by "any authority", but the probe should also investigate the role of the media group which owned Aj Tak channel.
The allegations against Mr Khurshid are the latest to be aimed at the Congress party, which has been beset by corruption scandals for months.