Murder attempt on Golden Temple raid's General Brar
2 October 2012

From the section

India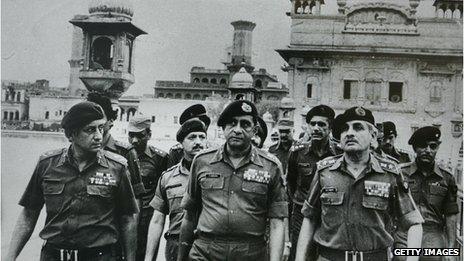 Police in London say the stabbing of the Indian general who led the 1984 raid on Sikhism's holiest shrine was attempted murder.
Lt-Gen Kuldeep Singh Brar was stabbed in an attack by four men on Sunday night, but survived.
Hundreds died when troops flushed Sikh separatist militants out of the Golden Temple in Amritsar in Punjab state.
The 78-year-old is thought still to be a target for extremist Sikhs, but the identity of his attackers is unclear.
Lt-Gen Brar, himself a Sikh, was one of the architects of Operation Bluestar, which was aimed at removing armed Sikh militants fighting for an independent homeland of Khalistan from the temple as well as rounding up other suspected Sikh militants operating elsewhere in the Punjab.
According to the Indian government, the operation left about 400 people, including 87 soldiers, dead.
Sikhs groups contest this figure, saying the number of casualties was several times higher. The Indian army's raid on the Golden Temple shocked Sikhs around the world and there is still deep resentment felt towards those who led the raid.
'Many threats'
After spending the night in hospital, Lt-Gen Brar was released on Monday. He sustained serious but not life-threatening injuries.
He told the BBC's Jill McGivering on Tuesday that the attack was "an assassination attempt... pure and simple".
"I have been under threat of Sikh militants for a long time since Operation Bluestar... There have been previous attempts."
The general said that he was attacked while returning to his hotel in the Oxford Circus area of London from a dinner date with his wife when they were approached by four bearded men wearing black clothes and black jackets.
While one held his wife to the ground, two of the other three also tried to push him onto the ground while the other pulled out a dagger.
"I didn't give in easily, I put up a strong struggle," the general said. "He knifed me in the back and slashed my neck with the knife.
"A few passer-bys arrived... and [the attackers] got frightened and ran away. It was not a robbery attempt. They didn't take my wife's handbag or my wallet. It was a hate crime... This was their way of taking revenge for what happened in Operation Bluestar in 1984."
No arrests have been made and police are keeping an open mind regarding a possible motive for the attack. They say they want to speak to people who helped the general and his wife at the scene following the attack.
The 1984 raid on Golden Temple was a part of the government's effort to crush Sikh militancy in India.
Prime Minister Indira Gandhi was subsequently assassinated by her Sikh bodyguards in what was seen as a revenge attack.
The assassination, in turn, led to widespread riots targeting Sikhs in the capital, Delhi, and elsewhere. Nearly 3,000 Sikhs were killed during the riots.