Strike in India state-owned banks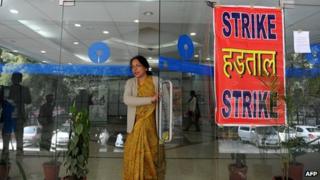 Employees of India's state-owned banks have begun a two-day strike to protest against proposed financial reforms in the banking sector.
One million workers from 70,000 banks are expected to be part of the strike.
They are protesting against reforms which will ease mergers and allow more private capital in the banking sector.
Indian Banks Association (IBA) said private-sector banks would continue to work and that the impact of the strike would be minimal on consumers.
"The strike will be a total success. We are not against reform, but these are reforms against the public sector banks," news agency Reuters quoted Vishwas Utagi, secretary of All India Bank Employees' Association, as saying.
"We will protest on the streets," he added.
The workers' unions said operations at all public sector banks - including the largest state-run bank, the State Bank of India - would be affected.
India has struggled to reform banking, retail and insurance sectors, mostly because of political opposition.