India opens fast road to Taj Mahal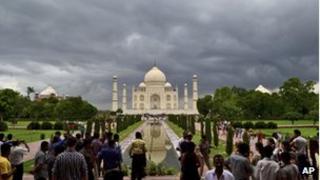 An expressway linking the Indian capital Delhi with Agra - the city renowned for its famous attraction the Taj Mahal - has been opened.
It currently takes five hours from Delhi to reach Agra.
Officials say the 165km (102 miles) expressway will reduce the journey time by half and boost the numbers of tourists visiting the city.
A single-day round trip to Agra using the road will cost 510 rupees ($9) in toll charges, reports say.
The Yamuna Expressway has six interchanges, 70 underpasses, and more than 200 small bridges and culverts.