From Atlanta with love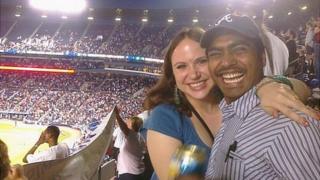 Javed Mohammad, who grew up on the streets of India, fell in love with Cristina Maria Kameika when she came visiting as a tourist from the US. They got married and now live in Atlanta. Chinki Sinha narrates their unusual transcontinental love story.
In his sleep, Javed now mumbles in the language spoken in his adopted country.
That, to his American wife, is a sign that he has crossed over or is on his way.
"We are trying to make it work," Cristina Maria Kameika said over the phone from Atlanta where the couple are renting a place and working towards a college degree.
"He is still Javed and he is still very Indian."
"I can never forget my language but while I am here, I am trying to adapt," Javed, whose mother tongue is Hindi, said.
'Politically correct'
Javed Mohammad ran away from a small village in Munger district of northern Bihar state when he was eight years old. He ended up on the streets of Mumbai and then Delhi, where he got high on drugs and started gambling.
He first met Cristina in 2006, when she came visiting India and signed up for a city walk tour in Delhi organised by Salaam Balak Trust, an organisation working towards the rescue of street children.
It was founded by the award-winning film director Mira Nair, whose 1988 film Salaam Bombay chronicles the lives of street children.
Javed and Cristina have been married for two years now. Javed is trying to enrol in a pharmacy course, is learning English and trying to adapt to the foreign climes.
At family gatherings, Cristina makes sure Javed is able to hold his own.
When people do not understand what he is saying, she translates or comes to his rescue when an awkward silence follows.
"I don't want them to feel far from him. We live in a politically correct society and often when he has shared a view point, it has led to a heated discussion," she said.
Alleyways of Delhi
Back in the shelter run by the Salaam Baalak Trust, Javed's photograph occupies a coveted spot.
They remember him fondly. He was one that made it out of the streets and they swear by his love story.
"He was a happy child. He said he didn't want to go home. He pursued his bachelor's from Delhi University through distance education and became a social worker in 2004," AK Tiwari, a worker at the Trust said. "Then he met Cristina."
It all started in the narrow alleys of Paharganj in Delhi, where Javed worked as a city tour guide after he was rescued from New Delhi railway station by staff of the Salaam Baalak Trust.
He would tell the tourists his own story of redemption. Cristina was among one such group.
She later returned to volunteer at the shelter in Paharganj, helping runaway children draw, read, write, or just tell them stories.
She herself came from a broken home. Her parents got divorced when she was very young. In some ways, she said, she could understand the need to be loved.
"Cristina was amazed and she was happy to hear my story. She said she didn't see that kind of thing in America," Javed said.
She loved his smile, and the way his eyes shone when he was around the children.
After a year she wrote to him from America.
Not sure whether he would remember her, Cristina said she was the one who came to the shelter with a little black dog, for the children to play with.
"This is one of these things that I feel I want to tell you out of need... I only ask you to read this because even though I am far away, I thought I had to tell you how strong my feelings were for you… I never met a man like you (in my whole life, and not even in America) that I felt as strongly for. And the sad thing was that I had even thought for a second, 'Wow! I think this is the one!'"
Not that she expected him to reciprocate.
"I know you probably don't want to read this or respond.… I only wish I could have shared passion with you... but I only hope that this was all for some greater reason."
Another world
Javed read the email many times over. Of course he remembered the girl with cropped hair and a ready smile.
But he was a product of the streets and she belonged to another world. He didn't want to break his heart.
He wrote back he was "but nothing".
"You are everything," he added later.
"At first I couldn't tell her I loved her," Javed said. "She was travelling with other girls. I went up and introduced myself. I kept looking at her for five minutes. I asked her if she was from America and then I thought, I am nothing."
'Crazy love story'
Cristina returned to India nine times in three years to spend time with him.
Javed told his family, and they came to Delhi to meet Cristina.
The wedding was arranged and they got married in Javed's village in 2010.
Cristina wore a red embroidered sari, dyed her palms with henna and adopted the name Rehana Khatoon. The festivities continued for days.
Cristina, who was brought up by her father, found it quite incredible that Javed's parents had been married for 40 years.
That was the kind of romance she yearned for and she wanted the togetherness to span an eternity.
Cristina's father was a captain for Delta Airways and he travelled to India twice to spend time with Javed.
After they got married, she told him he should give America a chance.
If he didn't like it there, she said, they would move back to India.
"It was so perfect," she said. "This is a crazy love story. People say we should write a book about our story."
Chinki Sinha is a journalist with Open Magazine