Sixteen Hindu pilgrims killed in Kashmir bus crash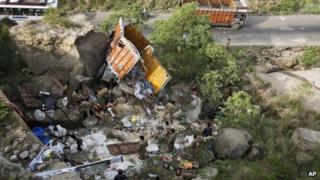 A truck carrying Hindu worshippers has fallen into a gorge in Indian-administered Kashmir, killing 16, police say.
The worshippers were returning from Amarnath cave, the site of an annual pilgrimage, when the incident happened in Samba district late on Thursday.
Sixteen other pilgrims travelling in the truck were injured. They were taken to a local hospital.
Hindus revere Amarnath as the abode of the god Shiva.
This is the second major incident involving pilgrims returning from the Amarnath cave this month.
On 14 July, 15 pilgrims were killed when a passenger bus returning from the pilgrimage plunged into a gorge near Ramban on a mountain road.
The pilgrims set off from the state's winter capital, Jammu, for Pahalgam, which serves as base camp for the 45km trek to the cave, 4,000m above sea level.