Baby born on train to be Delhi Metro mascot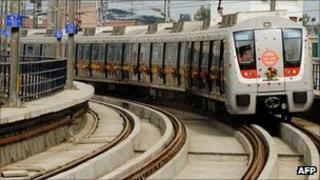 A baby girl who was born on a Delhi Metro train on Sunday will become the railway network's mascot, a spokesman has said.
The infant was born to a woman named as Juli, who went into sudden labour a week before she was due to give birth.
She gave birth at 07:28 [01:58GMT] with help from two female passengers near the Khan Market station, reports said.
A spokesman for the Delhi Metro Rail Corporation (DMRC) said they had decided to honour the baby girl.
Juli, who is a resident of the Faridabad area, was on her way to Safdarjung Hospital for a routine check-up when labour began.
Launched in 2002, Delhi's hi-tech metro system has become the lifeline of India's capital city and is used by at least 1.8 million people daily.
Parts of the network are underground while some sections use elevated tracks.
The system, which covers some of the city's most congested streets, is seen as the answer to Delhi's traffic chaos and has helped in lowering air pollution levels.