Old hand Pranab Mukherjee to shake up Indian presidency
22 July 2012

From the section

India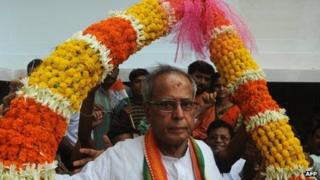 The key to what kind of president Pranab Mukherjee will make is to understand his motivations for wanting the job as India's head of state.
A veteran member of the governing Congress party, Mr Mukherjee is in good health and at 78 has not yet reached retirement age in Indian politics.
He has demonstrated an ability to forge unlikely alliances across the political spectrum - for example, in getting his candidature endorsed by ideologically disparate parties such as the Shiv Sena and the Janata Dal (United).
Therefore, it is not easy to understand Mr Mukherjee's enthusiasm for exiting the hurly-burly of a coalition government and electoral politics for the constitutional position of head of state.
Perhaps he is tired of being tagged as number two.
He was thwarted from becoming interim prime minister after the assassination of Indira Gandhi in 1984.
In 2004, he was disappointed that Manmohan Singh - someone who had reported to him at one time as a bureaucrat - was chosen to be prime minister by the Congress party.
In 2006, his bid for deputy prime minister failed, and in 2007 party President Sonia Gandhi dissuaded him from contesting the presidential election.
Mr Mukherjee also knows that should the Congress be in a position to form the next government in 2014, it would be Rahul Gandhi who would lead it or, failing that, then even a third term for Manmohan Singh might be possible.
Experienced
Whatever his own lingering ambitions, Mr Mukherjee has already made it known that he does not think the presidential palace, or Rashtrapati Bhavan, is a "dumping ground" for failed politicians.
Given his vast administrative, legislative and political experience, he should make a better president than many previous incumbents of that office.
With the exception of Neelam Sanjeeva Reddy and R Venkataraman, India's past presidents were either non-politicians or lightweight political figures compared to the prime minister of the day.
Pranab Mukherjee will be by far the most experienced politician to grace the Rashtrapati Bhavan.
With his vast experience of running the economic ministries, he also knows how closely the actions of Indian politicians are determined by their financial controllers.
We can also expect that every decision sent to him will be subjected to rigorous scrutiny because Mr Mukherjee's self-image is that of a constitutional expert who engages with details.
He is a lawyer by training and has formidable drafting skills.
The question that seems to concern political observers most is how Mr Mukherjee would act after the general election due by 2014.
Will the frustration of being denied what he has seen as his due since 1984, and having had to work for eight years under someone for whom he has little respect, colour his actions?
If the mandate in 2014 is like that of 2004 or 2009 - with the Congress emerging as the single largest party - then Mr Mukherjee will follow the rule book.
'No rubber stamp'
It is unlikely that he would go against the Congress, or thwart Rahul Gandhi.
The perceived mistrust between Congress President Sonia Gandhi and Pranab Mukherjee has been much exaggerated. Mr Mukherjee, after all, played a crucial role in ousting Sitaram Kesari, his one-time benefactor and Congress president, and installing Sonia Gandhi in his place.
He did this by citing an obscure and vaguely worded clause in the party's constitution which could be invoked by the Congress Working Committee only under extraordinary circumstances. He was also crucial in garnering the numbers needed for the coalition government's survival in 2008 when it faced a vote of confidence in parliament and he became Sonia Gandhi's trusted crisis manager.
At the fag end of his career, he is unlikely to turn anti-Congress and actively go against the interests of the party's first family.
Even if the 2014 mandate is less than crystal clear, no-one should expect him to go out of his way to support the Bharatiya Janata Party. Ideologically, like any mainstream Congress man, he harbours a healthy suspicion of the Hindu right.
However, what is certain is that under Pranab Mukherjee, the Rashtrapati Bhavan is likely to become a vibrant and important beat for journalists.
He will emerge as a rival centre of attention, if not a rival power centre.
Each time the government of the day takes a decision, it will have to take into account what the president might have to say. The Congress itself would have to view him in a different light.
He will prove to be a fair president but political parties in power prefer a submissive one.
Pranab Mukherjee will not be the constitutional rubber stamp that the ruling party of the day might want him to be.