India launches multilingual 'talking Koran'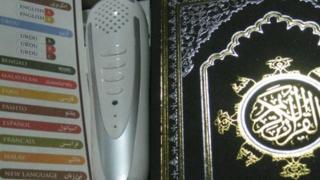 Muslims in South Asia can now buy a new device which recites the Koran in as many as 28 languages, including Urdu, Bengali and Malayalam.
Iqra-e-Koran was launched on Sunday to "help Muslims of the sub-continent in practicing their religion".
The Chinese-made "talking Koran" can also recite from Islam's holy text in English, French, Spanish and Pashto.
Similar machines are available in the market, but this is the first device customised for the sub-continent.
Young entrepreneur from Calcutta, Abdul Aziz Farooqi, who is the brain behind the device, says new languages can also be added to it.
"It's basically a sensor pen. You switch it on, select the language and the reciter from the specially printed menu, then you put the sensor on any paragraph or page on the Koran, the machine will automatically start reciting the original Arabic as well as in your chosen language," Mr Farooqi explains.
The package - which costs around 4,500 rupees ($82; £53) - includes a tafsir [commentary] book, a travel dictionary and a book for children to learn Arabic and the duas [prayers].
"Take the sensor to the list of explanations, choose one, select the name of the imam [priest] whose explanation you want to hear, and that's it. You can use it anytime because it's a small device and gives you privacy as it comes with headphones," Mr Farooqi says.
He says the device will also be useful to Muslims going for Haj as the travel dictionary has a list of common conversations translated into Arabic.
"If you want to know what time is your flight's check-in, put the sensor atop the sentence in English, choose Arabic, the device will play the audio for you in Arabic," explained Mr Farooqi.
The device will be available for sale in Pakistan, India and Bangladesh.