India critical of Barack Obama's comments on economy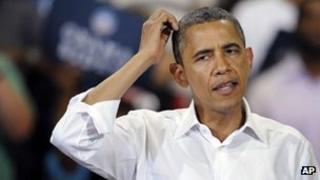 India has criticised US President Barack Obama for saying that Delhi restricted foreign investment in "too many sectors".
In an interview with the Press Trust of India Mr Obama talked of concerns about the "deteriorating investment climate".
Corporate Minister Veerappa Moily said Mr Obama was "not properly informed" and blamed "international lobbies" for spreading negative information.
India has been struggling to cope with a slowing economy.
The latest figures show it grew at an annual rate of 5.3% in the first quarter of 2012, the slowest pace of growth for nine years.
Unfriendly investment climate?
"Certain international lobbies like Vodafone are spreading this kind of a story and Mr Obama was not properly informed of the things that are happening, particularly when India's economic fundamentals are strong," Mr Veerappa Moily said.
MPs from several opposition parties also criticised Mr Obama for his remarks.
"If Mr Obama wants FDI [foreign direct investment] in retail and India does not want, then it won't come just because he is demanding it," Bharatiya Janata Party leader Yashwant Sinha said.
"Americans are talking about further opening of our retail sector so that they can come and make profit," senior Communist leader Nilotpal Basu said.
Many in the US business community have expressed concerns that the investment climate in India is deteriorating, PTI quoted Mr Obama as saying.
"They tell us it is still too hard to invest in India. In too many sectors, such as retail, India limits or prohibits the foreign investment that is necessary to create jobs in both our countries, and which is necessary for India to continue to grow," he said.
The US president said India "continues to grow at an impressive rate", but "there appears to be a growing consensus in India that the time may be right for another wave of economic reforms to make India more competitive in the global economy".
Apart from a slowing growth rate, rising prices and sluggish industrial production have also been a source of concern for the government. And several key reforms have been held up because of opposition from the government's allies.
Last year, Prime Minister Manmohan Singh was forced to reverse a decision to allow foreign direct investment in the $450 billion retail sector after Trinamool Congress, a key ally of the government, opposed the proposal.